OSDCE
Student Programme
Counselling & Career
Credited Cocu
Sports & Safety
Transport
Student Welfare
Leave and Withdrawal
OSDCE
About Us
To serve as ONE STOP CENTRE for student services and to pull together resources to provide better service to the students.
Organizational Chart
Student Programme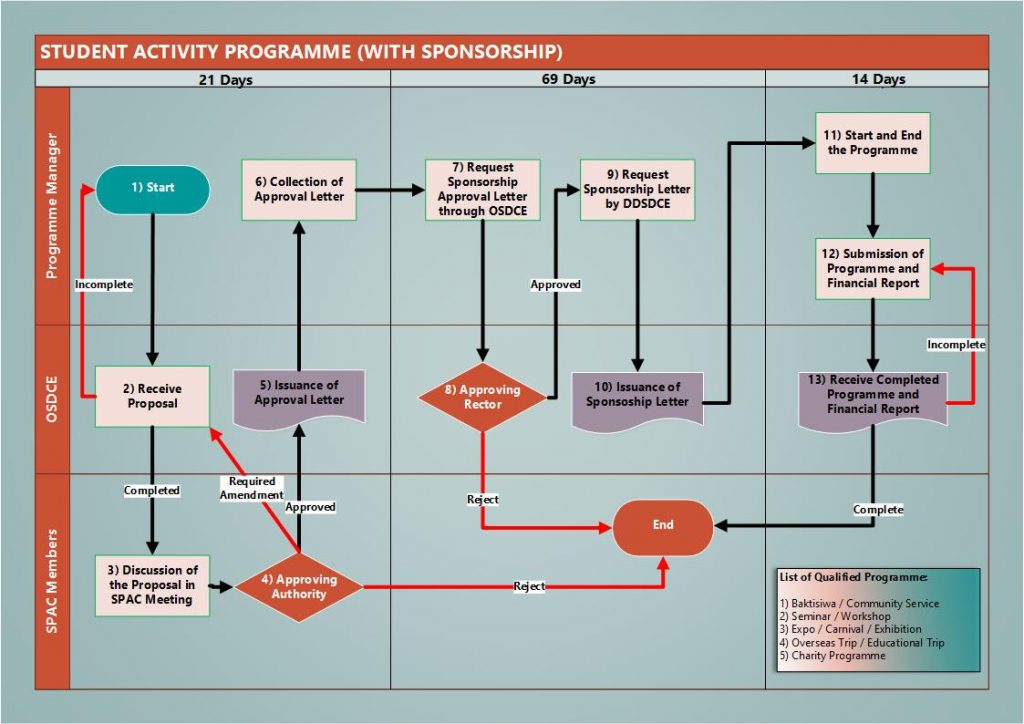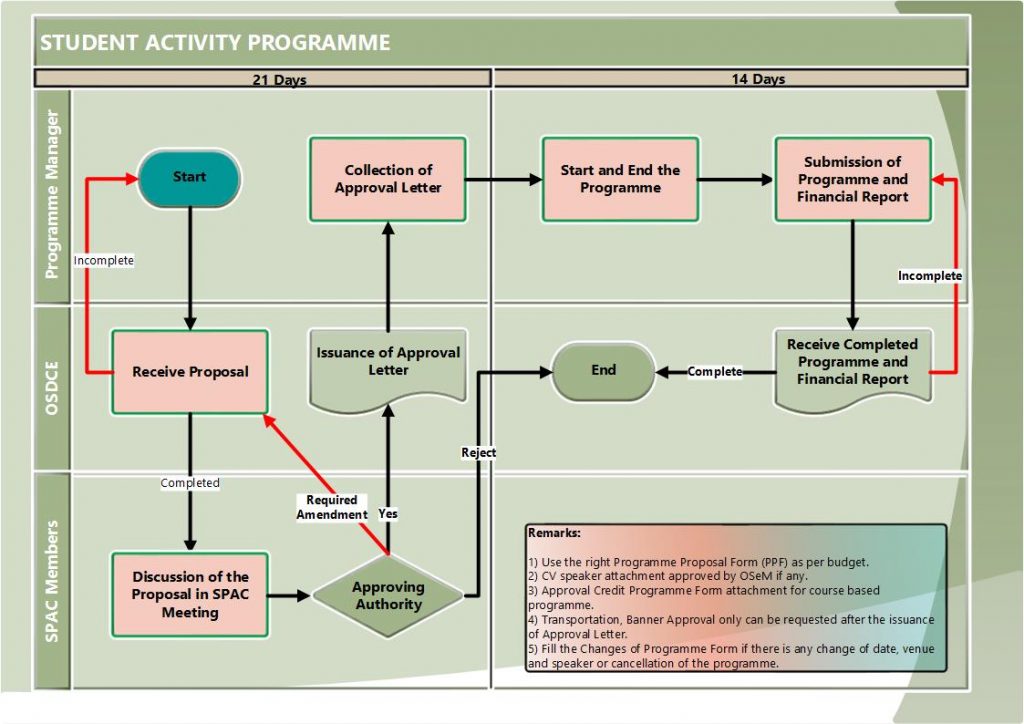 Counselling & Career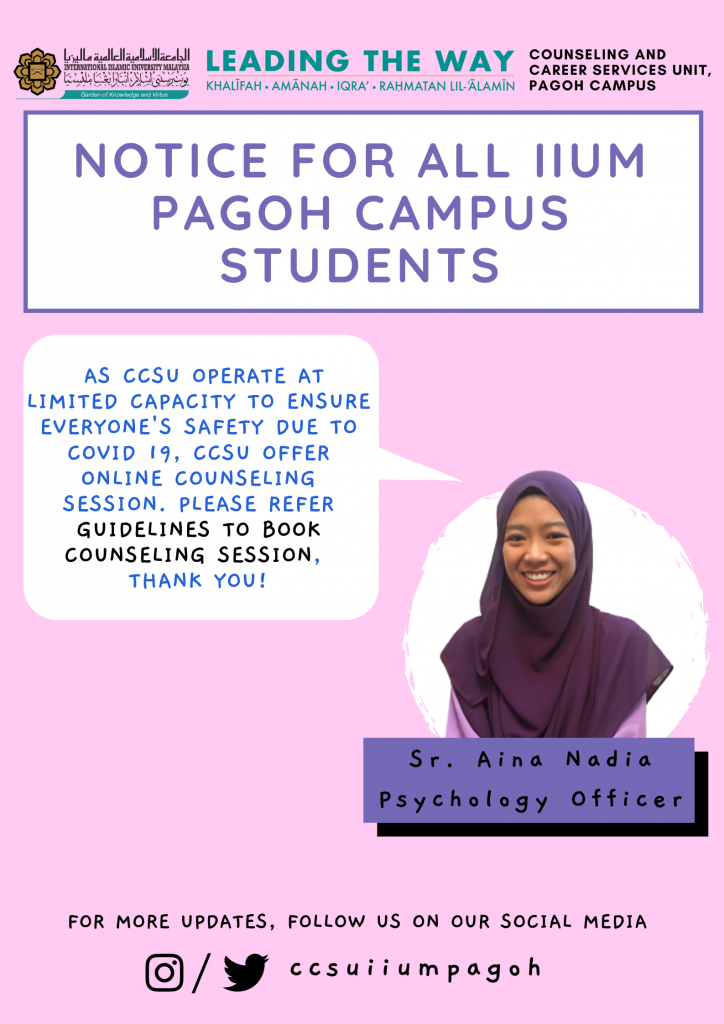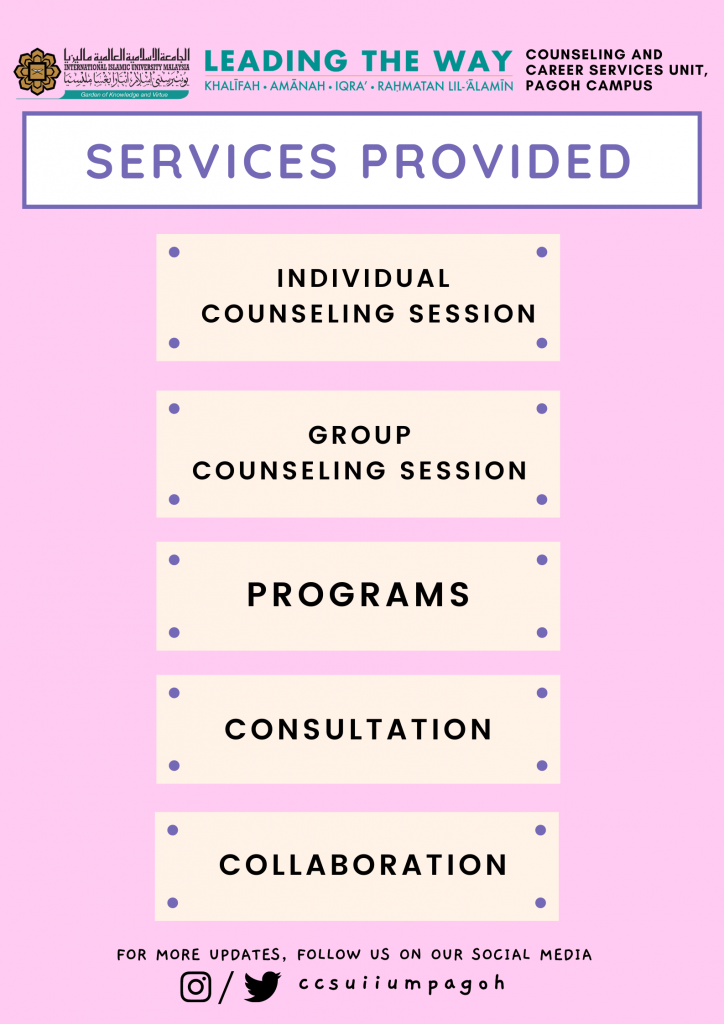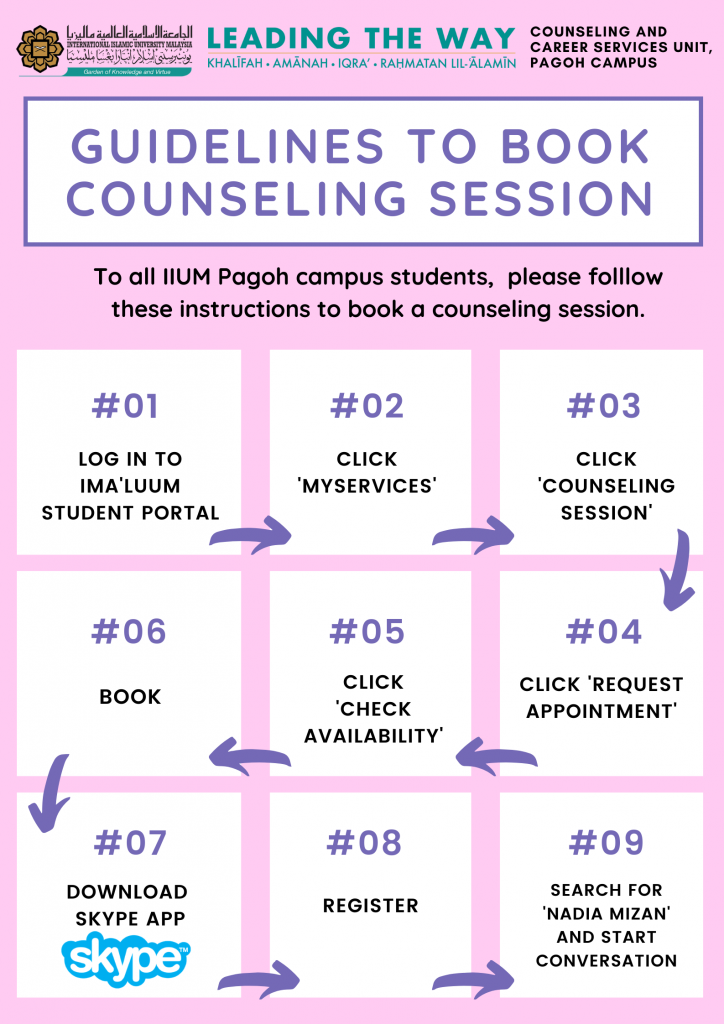 Credited Cocu
About Us
We offer CREDITED co-curricular activities and facilitate all undergraduate students from the first level up to the fourth level to complete their credited co-curricular courses as part of GRADUATION requirement.
The credited co-curricular is a structured module of co-curricular activities that should have at least 40% of academic input in the student's activities i.e. the co-curricular packages
All undergraduate students are made COMPULSORY to take the credited co-cu as it is a requirement to be graduated.
It must be REGISTERED in their first year/level until the fourth year/level
Sports & Safety
About Us
Sports 
The sports section in IIUM was established in 1983. Since then, sports have become vibrant activities in IIUM. In 1990, the sports activities in IIUM have drastically increased in term of quantity and quality. to provide opportunities for students and staff to pursue their sports and recreational interest. Sport and common facility shared with every institution located in Pagoh Higher Education Hub and the local community. Common User Facility (Shared Facilities) is administered by the Ministry of Education (MOE) under Section Special Projects BPTP Development Division. Among the common facilities are developed as follows:
Zone
Facilities
Zone 1

Lecture Hall & Auditorium
Multipurpose Hall

Zone 2

Library
Data Centre
Student Activity Centre & Kindergarten
Cafeteria
Guest House
Surau University

Zone 3

Sport Centre
Aquatic Centre
Sports documents
Safety
Occupational Safety, Health and Built Environment (OSHBE) previously has been known as Occupational Safety and Health Unit, OSHU. In view of the critical needs for an entity in the University to look into issues affecting the quality of the environment, particularly river pollution, poor sewerage treatment plant management, contaminated indoor air quality, and etc., the University Management Committee (UMC) in its meeting No. 5/2015 held on 1st April 2015 agreed in principle to expand the current functions and responsibilities of the OSHU with the appointment of a Director. The INTERNATIONAL ISLAMIC UNIVERSITY MALAYSIA (IIUM) strives to achieve excellence in the management of its Occupational Safety and Health Management System (OSHMS) at the workplace by inculcating an awareness of the importance of safety and health for IIUM's employees and members of the public who deal with the University.
Safety slides
1. OSH guidelines for student bazaar
Transport
About Us
Currently, we have three (3) shuttle buses, one (1) Toyota Innova, one (1) Proton Perdana and one (1) Toyota Hiace. Our main focus is to provide efficient, safe and comfortable transportation service to the Kuliyyah community. Our services are stated as follows: 
• On campus shuttle service 
• Students programme 
• Accompany Officer Cum Driver
Student Welfare
About Us
The services provided by Welfare Unit are:
Khairat and Financial Assistance.

Insurance Coverage and Claims for IIUM students (Malaysian and International students)

Sick students and Hospitalized

Send/Accompany sick students to clinic/hospital (by case)

Coordinate and manage death of students

Mahabbah food programme (coming soon)
The services are :
1. Khairat / Financial Assistance
To assist students who are in dire need of financial assistance and who face difficulties while studying in IIUM
Application online:  https://fas.iium.edu.my/isas/app/login
| No. | Recipient/Case |
| --- | --- |
| 1 | Death of IIUM students |
| 2 | Death of parents/spouse/children (during study) |
| 3 | Financial problem (poor and needy student) -Parents income less than RM 4000.00 / Had Kifayah |
| 4 | Medical expenses / chronic illness |
| 5 | Buying and maintaining wheelchair for disabled students :  depends on the quotation of the supplier |
| 6 | Assistance for sick student (hospitalized) |
| 7 | Victim of natural calamities / emergency cases e.g. fire/landslide/flood/etc. |
| 8 | Theft cases (valuable belongings only)   |
2. Insurance Coverage and Claims for IIUM students (Malaysian and International students).
Malaysian students – Group Personal Accident (GPA) only:
All IIUM students are insured under the Group Personal Accident Insurance by Syarikat Takaful (M) Bhd. Insurance will be paid to students for cases such as bodily injury and death caused by accidental means.
Required documents:
Personal Accident Takaful Claim Form duly completed

Copy of Police Report

Copy of Medical Report (If any)

Copy of Medical Specialist Report (If any)

Copy of Death Certificate (for fatal accident only)

Copy of Post Mortem Report (if any)

Medical Certificate (Original)

Medical Bills/Receipt (Original)

Copy of Matric Card

Copy of Driving license (if any)

Bank Account No.
Leave and Withdrawal
Tab Content