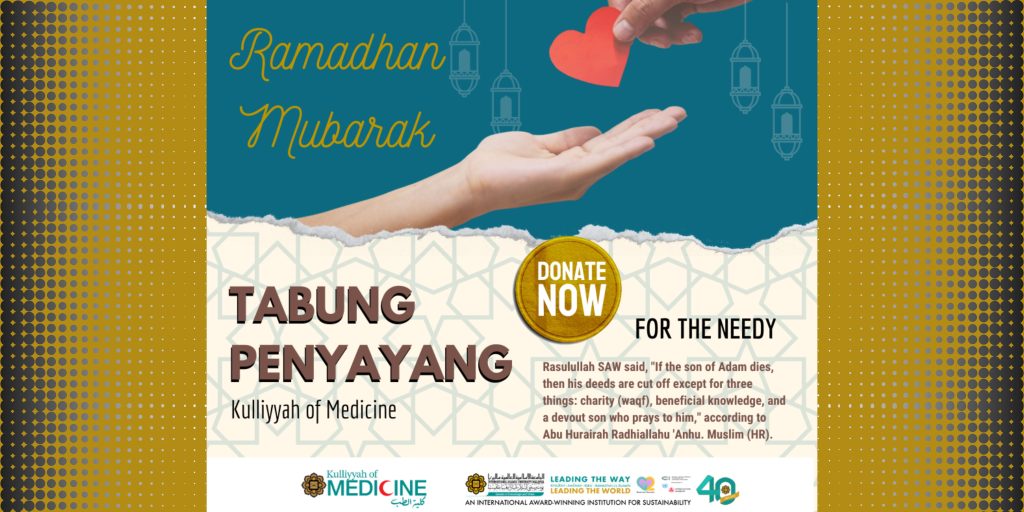 Assalamualaikum wrt. wbt.,
Dear Prof. / Assoc. Prof. / Asst. Prof. / Dato'. / Dr. / Sir / Madam / Br. / Sr.,
Please Donate to Tabung Penyayang
The Tabung Penyayang, KOM primary objective is to reduce the financial burden experienced by needy students in pursuing their studies in Kulliyyah of Medicine.
"I am hungry, and I can't afford a decent meal."
"I'm struggling to pay my debt, it's affecting my studies"
These are some of the plights of Kulliyyah of Medicine students.
For Tabung Penyayang to fulfill the objective, a steady flow of funds is needed to ensure students in dire straits receive financial assistance. Please donate to help them. Thank you
Method of Contribution:
i)One-off:
Cash or Cheque or Online transfer Payable to:
06010002738719
Bank Muamalat IIUM Kuantan
Ref: Tabung Penyayang KOM
ii) Monthly Salary Deduction. (IIUM staff only)
Kindly click the link bellow:
https://docs.google.com/forms/d/e/1FAIpQLSfNy9pyMUAgB8qKJ09tSnwWo87_YU2b_094p3AnfaymRkW_4g/viewform
For receipt & tax exemption, contact us at:
Office of DDSD&CE
Kulliyyah of Medicine,
IIUM Kuantan.
Tel: 019-2723296 (Sr. Maryati Zawawi)