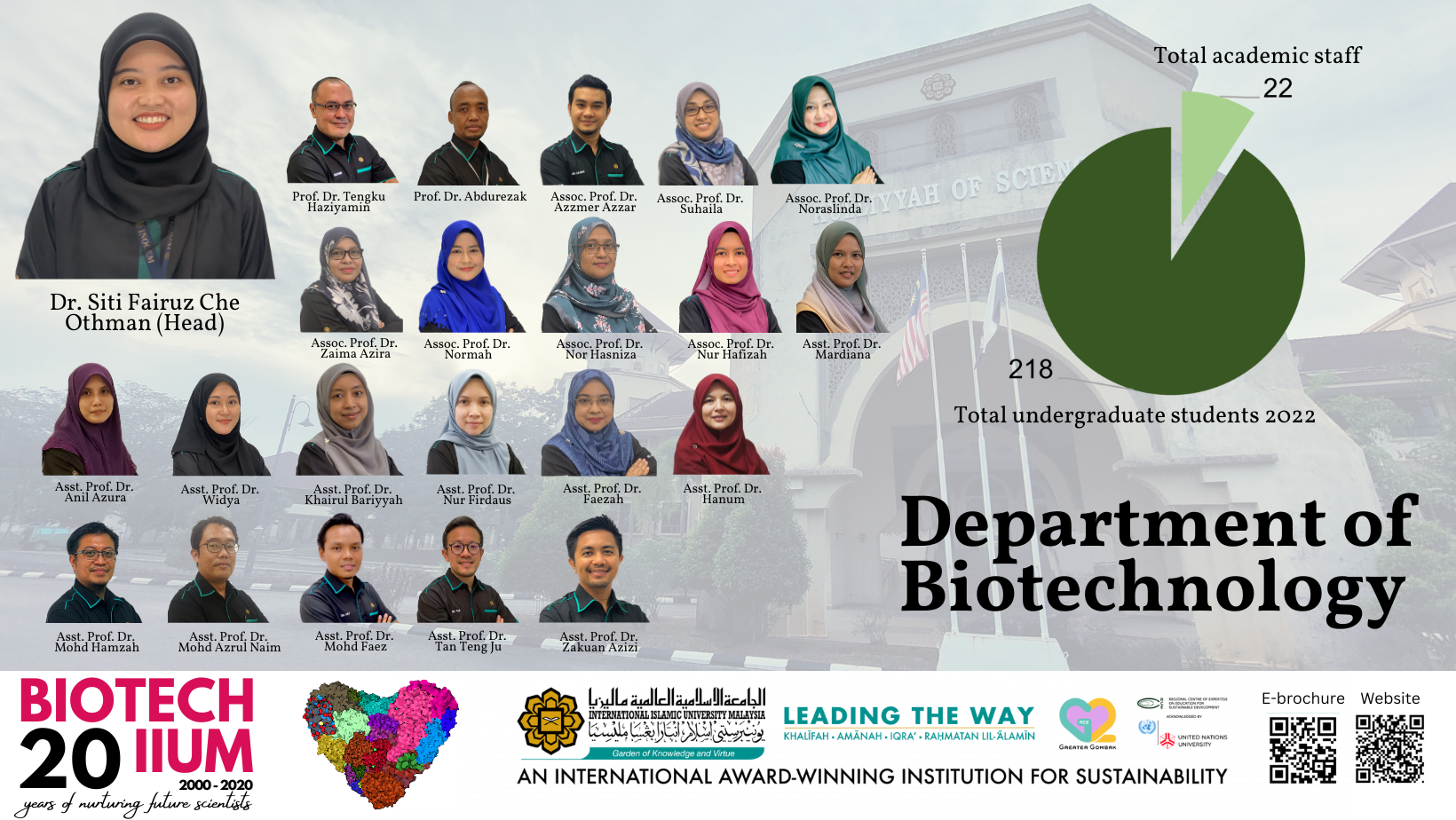 Click on the picture to go to the official IIUM profile page
Ts. Dr. Tengku Haziyamin Tengku Abdul Hamid (Professor)

Academic Qualification PhD in Enzyme Technology - Universiti Putra Malaysia
Master of Science (Food & Agriculture Biotechnology) - University of Reading, Bachelor of Science (Biochemistry) - University College Cork
Research Areas  Biochemistry & Enzyme Technology
Links Google Scholar, Research Gate, Orcid
Email haziyamin@iium.edu.my

Dr. Abdurezak Abdullah Hashi (Professor)

Academic Qualification PhD in Theology and Comparative Religion - IIUM, Master in Usul Addin & Comparative Religion - IIUM, Bachelor in Usul Addin & Comparative Religion - IIUM, Certificate in Teacher Training Certificate - Mahad Imam al-shafiki, Certificate in Memorizing the Holy Qur'an - Jama'at Tahfiz al-qur'an
Research Areas Theology, Comparative Religion, Islamic Thoughts, Bioethics
Links Google Scholar
Email hashi@iium.edu.my

Dr. Zaima Azira Zainal Abidin (Associate Professor)

Academic Qualification PhD in Marine Science - Universiti Kebangsaan Malaysia
Research Areas Molecular Biology, Microbial Natural Product, Marine Microbiology, Plant Transformation
Links Google Scholar, Research Gate
Email zzaima@iium.edu.my

Dr. Suhaila Mohd Omar (Associate Professor)

Academic Qualification PhD in Biotechnology - University of New South Wales, Australia, Master of Technology (Environmental Management) - Universiti Malaya, Bachelor of Science (Biotechnology with Management) - Universiti Kebangsaan Malaysia
Research Areas Environmental & Solid Waste Management, Wastewater Treatment, Environmental Ecology
Links Google Scholar, Research Gate
Email osuhaila@iium.edu.my

Ts. Dr. Noraslinda Muhamad Bunnori (Associate Professor)

Academic Qualification PhD in Biochemistry - Universiti Kebangsaan Malaysia
Research Areas Biochemistry, Proteomics, Computational Biology & Bioinformatics
Links Irep, Research Gate
Email noraslinda@iium.edu.my

Dr. Azzmer Azzar Abdul Hamid (Associate Professor)

Academic Qualification PhD in Biotechnology - IIUM
Research Areas Environmental microbiology, Molecular Modelling of Environmental and Disease Proteins
Links Google Scholar 
Email azzmer@iium.edu.my

Ts. Dr. Normah Haron (Associate Professor)

Academic Qualification PhD in Food Science and Technology - University of New South Wales, Australia, Masters of Health Science (Nutrition) - University Kebangsaan Malaysia, Bachelor of Nutrition with Honours - University Kebangsaan Malaysia
Research Areas Nutrition and Health sciences, Analytical Methods, Bioactive Compounds in Natural Products
Links Google Scholar, Research Gate
Email normahh@iium.edu.my

Ts. Dr. Noor Hasniza Md Zain (Associate Professor)

Academic Qualification PhD in Agriculture - University of Sydney, Australia, Master of Science (Plant Biotechnology) - Universiti Putra Malaysia, Bachelor of Science (Resource Biotechnolgy) - Universiti Malaysia Sarawak 
Research Areas Enzymology Protein Expression and Purification Food Quality Analysis
Links Irep, Research Gate
Email hasnizamz@iium.edu.my

Ts. Dr. Anil Azura Jalaluddin (Assistant Professor)

Academic Qualification PhD in Chemistry - University of Otago, New Zealand, Master of Biotechnology - Universiti Malaya, Bachelor of Science in Biochemistry & Biotechnology - Carleton University
Research Areas Food Biotechnology Bioprocess Medical Biotechnology
Links Irep
Email anilazura@iium.edu.my

Dr. Mardiana Mohd Ashaari (Assistant Professor)

Academic Qualification PhD in Environmental Biotechnology - University College Dublin, UK, Master of Science in Bioinformatics - University of London, Bachelor of Biotechnology (Hons.) - IIUM
Research Areas Environmental Microbiology and Biotechnology, Bioremediation of Petroleum
Links Google Scholar, Research Gate
Email mardianama@iium.edu.my

Ts. Dr. Widya Abdul Wahab (Assistant Professor)

Academic Qualification PhD in Diabetes & Nutritional Science - King's College London, UK, Master of Biotechnology - University of Queensland
Bachelor of Biotechnology (Hons.) - IIUM
Research Areas Food Toxicity (food compounds, postbiotics), Immunogenicity and antigenicity, ELISA-based assay, Nutraceuticals
Links Research Gate
Email widya@iium.edu.my

Dr. Khairul Bariyyah Abdul Halim (Assistant Professor)

Academic Qualification DPhil. in Biochemistry  - University of Oxford, UK, Master of Science (Bioinformatics) – University of East Anglia, UK, Bachelor of Science (Bioinformatics) – Universiti Malaya
Research Areas Computational Biochemistry, Molecular Dynamics Simulation Study of Membrane Proteins, Protein Modeling
Links Google Scholar, Research Gate
Email kbariyyah@iium.edu.my

Dr. Nur Hafizah Azizan (Associate Professor)

Academic Qualification PhD in Chemistry - Australian National University, Master of Science (Biotechnology) - Universiti Malaysia Sarawak, Bachelor of Science (Biotechnology) - Universiti Malaysia Sarawak 
Research Areas Environmental Biotechnology, Microbiology, Molecular Biology, Environmental Biotechnology, Protein Engineering
Links Research Gate
Email fizahazizan@iium.edu.my

Dr. Siti Fairuz Che Othman (Assistant Professor) - (Head of Department)

Academic Qualification PhD in Food Science and Nutrition - University of Leeds, UK, Bachelor of Biotechnology - IIUM
Research Areas Food colloids and processing, Food Oral Processing Sensory Studies
Links Research Gate
Email fairuzothman@iium.edu.my

Dr. Nur Firdaus Isa (Assistant Professor)

Academic Qualification DPhil in Pathology - University of Oxford, UK, Master of Science (Molecular Nutrition) - Universiti Sains Malaysia
Research Areas Molecular Genetics in Health and Disease, Medical Biotechnology, Microbiology and Virology, Nutrigenomics
Links Google Scholar, ORCID
Email nurfirdausisa@iium.edu.my

Ts. Dr. Nor Faezah Ansari (Assistant Professor)

Academic Qualification PhD in Biotechnology - Universiti Malaya
Research Areas Bioprocess Technology (fermentation, bioreactor), Biomaterials, Biopolymer Degradation
Links Research Gate
Email faezahansari@iium.edu.my

Dr. Hanum Ya'akub (Assistant Professor)

Academic Qualification PhD in Epidemiology - University of Manchester, UK, Master of Science - Universiti Teknologi MARA, Bachelor of Engineering - Tokyo University of Science
Research Areas Breast Cancer, Molecular Epidemiology, Natural Products, Medical Biotechnology
Links Research Gate
Email hanumyaakub@iium.edu.my

Ts. Dr. Mohd Hamzah Mohd Nasir (Assistant Professor)

Academic Qualification PhD in Life Sciences - Keele University, UK, Master of Biotechnology and Bioinformatics - La Trobe University, Bachelor of Health Science (Honours) in Biomedicine - Universiti Sains Malaysia
Research Areas Molecular Parasitology, Malaria in-vitro study Neurobiology, Blood Brain Barrier and Parasitology
Links Irep
Email hamzahn@iium.edu.my

Dr. Tan Teng Ju (Assistant Professor)

Academic Qualification PhD in Food Science & Technology - Cornell University, New York, Bachelor of Science Bioindustry - Universiti Putra Malaysia
Research Areas Food Science and Technology, Food Engineering Supercritical Fluid Extraction of Essential Oil and Dairy Processing
Links Google Scholar, Irep
Email tan@iium.edu.my

Dr. Mohd Azrul Naim Mohamad (Assistant Professor)

Academic Qualification PhD in Marine Microbial Ecology - University of Wageningen, Netherland, Master of Biotechnology - University of Wageningen, Netherland, Bachelor of Biotechnology (Hons.) - IIUM
Research Areas Marine Biotechnology Genomics, Microbial Ecology, Molecular Biology, Aquaculture Biotechnology
Links Google Scholar, Research Gate
Email aznaim@iium.edu.my

Ts. Dr. Mohd Faez Sharif (Assistant Professor)

Academic Qualification PhD in Animal Cell Biotechnology - Universiti Putra Malaysia, Master of Science (Biotechnology) - Universiti Teknologi Malaysia, Bachelor of Science (Industrial Biology) - Universiti Teknologi Malaysia 
Research Areas Biotechnology,  Animal Cell Biotechnology, Biocomposting and Microbiology
Links Google Scholar, Irep
Email faez@iium.edu.my

Ts. Dr. Zakuan Azizi Shamsul Harumain (Assistant Professor)

Academic Qualification PhD in Biology - University of York, UK, Master of Environmental Biotechnology - Universiti Putra Malaysia, Bachelor of Biotechnology (Hons) - IIUM 
Research Areas Phytomining, Phytoremediation, Bioremediation, Nanoremediation
Links Google Scholar, Research Gate, Irep, LinkedIn
Email zak@iium.edu.my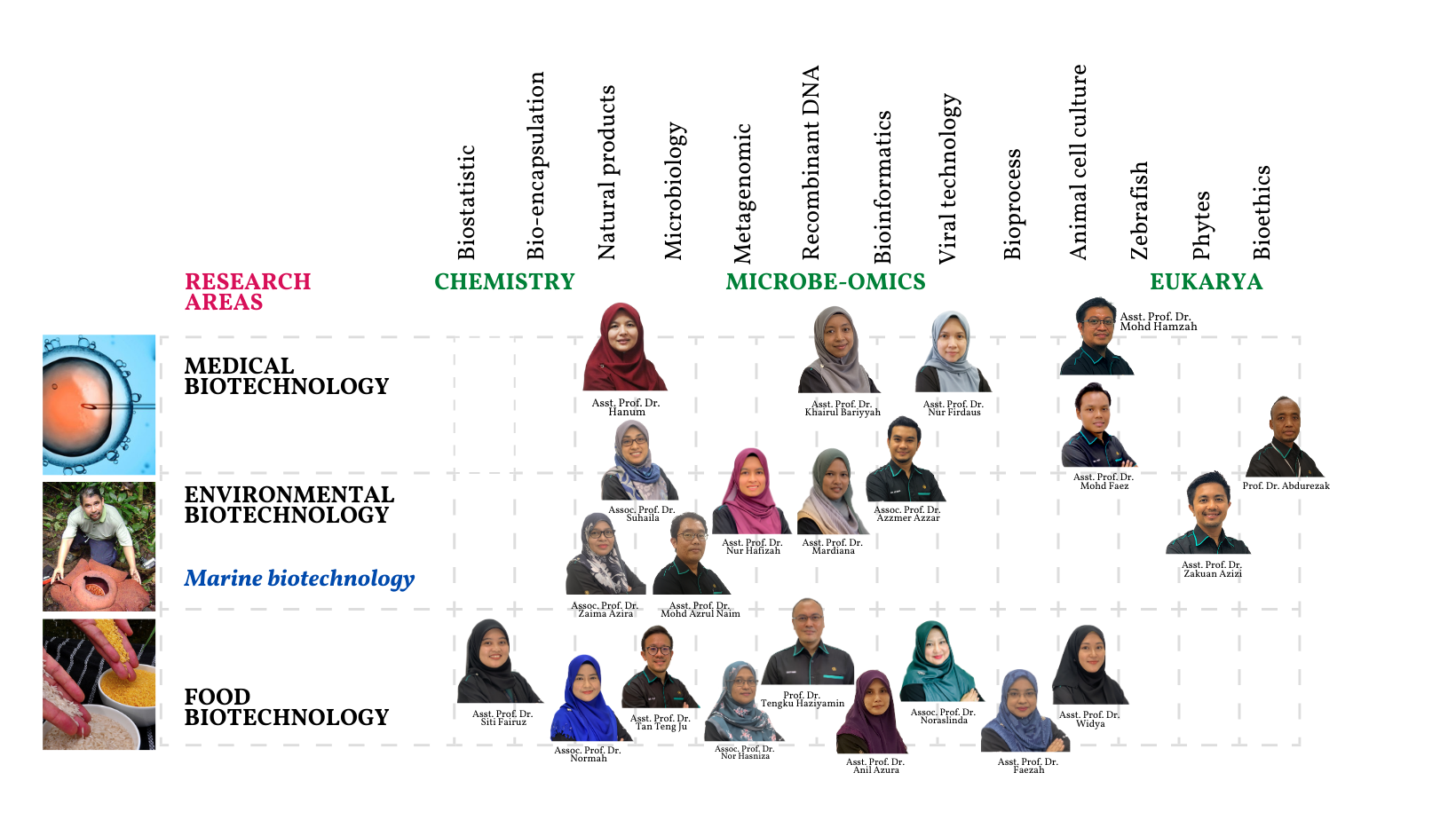 Research areas according to academic staff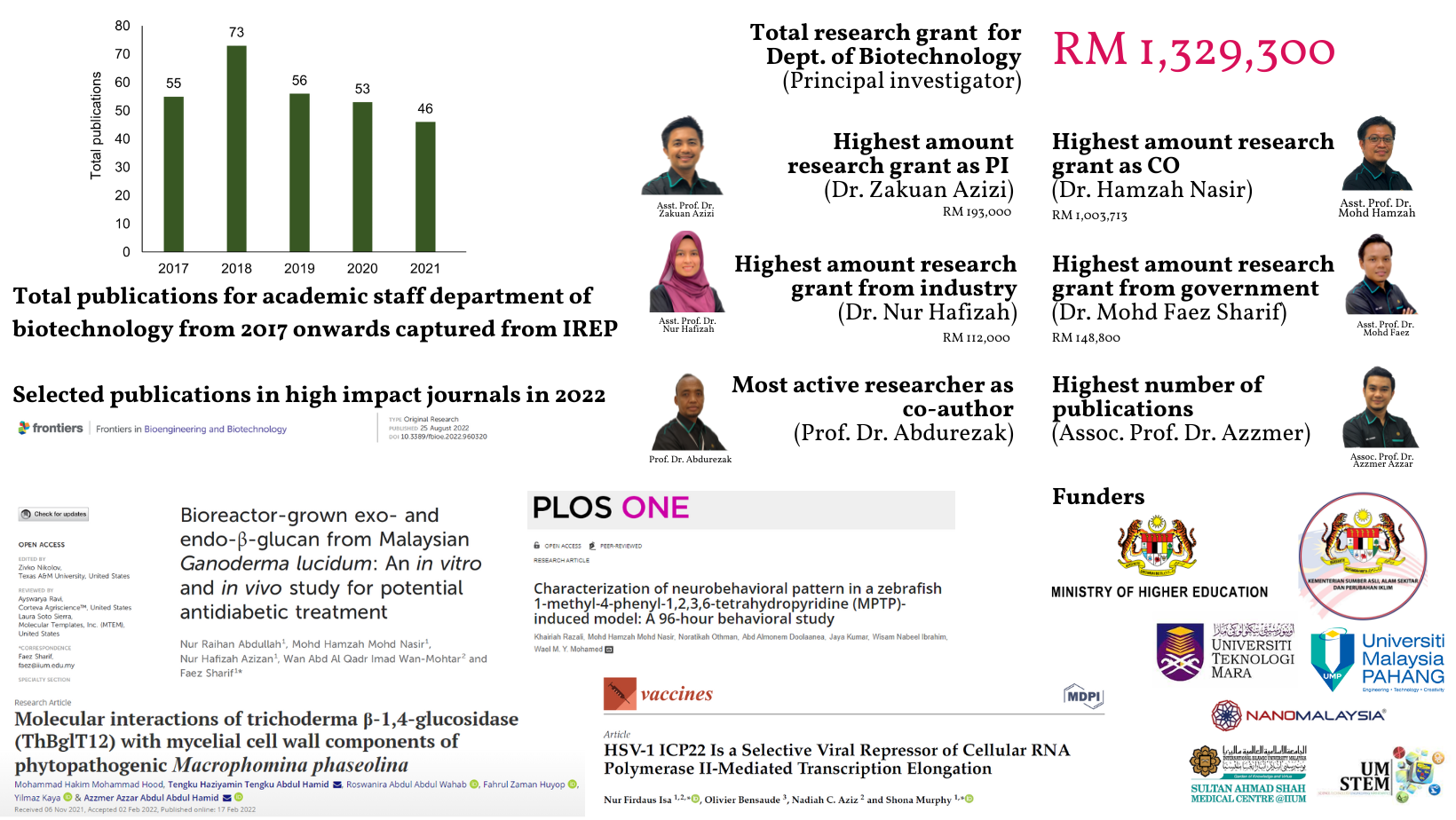 Infographic on research and publication achievement 2021 - 2023
Research articles
Research articles for 2023 (until August 2023)


Che Othman, Siti Fairuz and Burhan, Nurul Najihah and Hamzah, Nurasyikin and Zakaria, Siti Fatimah and Mohamed Suffian, Izzat Fahimuddin (2023) Rheological assessments on alginate and carrageenan as nanoparticle carriers for topical oral cancer drug. Journal of Tropical Life Science, 13 (2). pp. 239-246. ISSN 2087-5517 E-ISSN 2527-4376 (In Press)
Ikhwan Wong Abdullah, Nurjeha and Samsudin, Muhammad Na'im and Che Othman, Siti Fairuz (2023) Assessing the stability of peppermint oil encapsulated in hydrogel beads. Journal of Tropical Life Science, 13 (1). pp. 51-60. ISSN 2087-5517 E-ISSN 2527-4376
Ismail, Che Muhammad Khairul Hisyam and Khong, Nicholas M.H. and Ahmad, Azmir and Mokhtar@Makhtar, Khairani Idah and Lestari, Widya and Mustafa Al-Ahmad, Basma Ezzat and Abdul Hamid, Azzmer Azzar and Mohd Abd Razak, Mohd Ridzuan and Ismail, Azlini (2023) LC-MS/MS-QTOF dataset of compounds detected in kelulut honey of the stingless bees, heterotrigona itama and tetrigona binghami from Kuantan, Pahang, Malaysia. Data in Brief, 49 (August 2023). pp. 1-8. E-ISSN 2352-3409
Laili, Iffah Nadia and Mohd Nasir, Mohd Hamzah and Jufri, Nurul Farhana and Ibrahim, Farah Wahida and Hamid, Asmah (2023) Lysosomal dysfunction induced cytosolic vacuolation and increased intracellular amyloid-beta 42 (Aβ42) in human brain endothelial cells (HBEC-5i). Biomedicine & Pharmacotherapy, 161. pp. 1-10. ISSN 0753-3322 E-ISSN 1950-6007
Lin, Khor Tze and Mahat, Naji Arafat and Azman, Aida Rasyidah and Abdul Wahab, Roswanira and Oyewusi, Habeebat Adekilekun and Abdul Hamid, Azzmer Azzar (2023) Interaction of the nanobio-based reagent with sodium fluorescein and lipids via bioinformatics for forensic fingerprint visualisations. Journal of Biomolecular Structure and Dynamics. ISSN 0739-1102 E-ISSN 1538-0254
Misman, Nurafifa Akmal and Sharif, Mohd. Faez and Chowdhury, Ahmed Jalal Khan and Azizan, Nur Hafizah (2023) Water pollution and the assessment of water quality parameters: a review. Desalination and Water Treatment, 294 (May 2023). pp. 79-88. ISSN 1944-3994 E-ISSN 1944-3986
Razali, Khairiah and Mohd Nasir, Mohd Hamzah and Kumar, Jaya and Mohamed, Wael Mohamed Yousef (2023) Mitophagy: a bridge linking HMGB1 and Parkinson's disease using adult zebrafish as a model organism. Brain Sciences, 13 (7). pp. 1-15. E-ISSN 2076-3425
Roslan, Norashikin and Abd Halim, Khairul Bariyyah and Muhamad Bunnori, Noraslinda and Mohd Aluwi, Mohd Fadhlizil Fasihi and Kassim, Karimah and Ngah, Nurziana (2023) In silico study of Thiourea derivatives as potential epidermal growth factor receptor inhibitors. Journal of Computational Biophysics and Chemistry, 22 (4). pp. 453-472. ISSN 2737-4165 E-ISSN 2737-4173
Shamsul Harumain, Zakuan Azizi and Mohamad, Mohd Azrul Naim and Nordin, Noor Faizul Hadry and Abd Shukor, Mohd Yunus (2023) Biodegradation of Petroleum Sludge by Methylobacterium sp. Strain ZASH. Tropical Life Sciences Research. ISSN 1985-3718 E-ISSN 2180-4249 (In Press)
Shuhaimen, Muhammad Shahrain and Abdullah, Erna Normaya and Zubir, Aisyah and Shamsuri, Syamimi Sulfiza and Mohd Salim, Rosliza and Iqbal, Anwar and Mat Piah, Mohd Bijarimi and Ahmad, Mohammad Norazmi (2023) Modification of Carica papaya seeds with NaOH for copper removal from water. Malaysian Journal of Chemistry, 25 (3). pp. 431-439. ISSN 1511-2292 E-ISSN 2550-1658
Research articles for 2022
Abd Halim, Khairul Bariyyah and Muhamad Yusoff, Muhamad Ariff and Samin, Noor Atikah (2022) Computational studies of potential ebola vp40 inhibitors using bioactive compounds from medicinal plants of Malaysia. Jurnal Teknologi (Sciences and Engineering), 84 (4). pp. 183-190. ISSN 0127-9696 E-ISSN 2180-3722
Abdul Aziz, Asmadamia and Zulbahri, Azuan Syafiq and Sharif, Mohd Faez and Mohamad, Mohd Azrul Naim and Gan, Han Min and Azizan, Nur Hafizah (2022) Genome sequence dataset of Bacillus altitudinis strain ST14 isolated from Tunggak River in Gebeng Industrial Park, Kuantan, Pahang. Data in Brief. ISSN 2352-3409 (In Press)
Ashraffarhan, Awang Mohd and Mohd Salleh, Mohd Hazimin and Muhamad Tajudin, Nur Shuhada (2022) Analysis of soil nitrate ion selective slectrode (ISE) sensor using Arduino UNO. Journal of Science and Technology, 14 (2). pp. 31-39. ISSN 2229-8460 E-ISSN 2600-7924
Dzolkifle, Nurul Alia Nabilah and Zuhdi Ramli, Ammar Akmal and Mohamad Zain, Farah Izzatie Hananie and Mohd Zuraidi, Siti Nurnafisah and Sharif, Mohd. Faez and Rosli, Ruhan Asyrani and Othman, Ahmad Razi and Shamsul Harumain, Zakuan Azizi (2022) The potential of silica from rice husk ash on removal of sulphide in wastewater. In: International Conference on Bioengineering and Technology (IConBET2021), 24-25 May 2021, Virtual online.
Isa, Nur Firdaus and Bensaude, Olivier and Murphy, Shona (2022) Amber suppression technology for mapping site-specific viral-host protein interactions in mammalian cells. Bio-protocol, 12 (3). E-ISSN 2331-8325
Ismail, Azlini and Tuan Anuar, Tuan Ashraf Faiz and Mohamed Suffian, Izzat Fahimuddin and Abdul Hamid, Azzmer Azzar and Omar, Muhammad Nor and Mustafa Al-Ahmad, Basma Ezzat and Wan Ahmad, Wan Amir Nizam (2022) Angiotensin Converting Enzyme (ACE) inhibitionactivity by Syzygium polyanthum Wight (Walp.) leaves: mechanism and specificity. Pharmacognosy Journal, 14 (1). pp. 763-84. ISSN 0975-3575
Mohammad Hood, Mohammad Hakim and Tengku Abdul Hamid, Tengku Haziyamin and Abdul Wahab, Roswanira and Huyop, Fahrul Zaman and Kaya, Yilmaz and Abdul Hamid, Azzmer Azzar (2022) Molecular interactions of trichoderma β-1,4-glucosidase (ThBglT12) with mycelial cell wall components of phytopathogenic Macrophomina phaseolina. Journal of Biomolecular Structure and Dynamics. pp. 1-17. ISSN 0739-1102 E-ISSN 1538-0254
Mohd Hayati, Mohamad Fayyadh and Ab Rahman, Mohd Hafizuddin and Zulkifli, Nur Saadah and Ruslan, Fatin Shazwani and Darnis, Deny Susanti and Mohd Omar, Suhaila (2022) Chitin and Chitosan preparation from Malaysian Black Soldier Fly biomass: a preliminary study. Materials Science Forum, 1069. pp. 201-209. ISSN 1662-9752
Mohd. Azharuddin, Nur Syamimi and Ahmad Radzi, Muhammad Aa'zamuddin and Azhim, Azran and Sha'ban, Munirah and Abdulahi Hashi, Abdurezak (2022) Ethical issues in tissue engineering: a systematic review. Malaysian Journal of Medicine & Health Sciences, 18 (1). 275 -289. ISSN 16758544 E-ISSN 2636-9346
Othman, Ahmad Fauzi and Arshad, Mohd Fadzil and Ahmad, Zakiah and Shafie, Amran and Ahmad Zaki, Junaiza and Abdul Latif, Nur Hannani and Mohamad, Mohd Azrul Naim (2022) Effect of ethanol treatment on shrinkage of oil palm trunk for the drying process. In: 1st International Academic Research Conference (iAReCo 2022), 28-29 July 2022, Kangar. (Unpublished)
Rahman, Mohammad Mustafizur and Fathi, Ahmad (2022) Influence of environmental factors on biology and catch composition of Barbonymus schwanenfeldii in a tropical lake, northern Malaysia: implications for conservation planning. Environmental Science and Pollution Research. pp. 1-15. ISSN 0944-1344 E-ISSN 1614-7499
RazaliI, Khairiah and Mohd Nasir, Mohd Hamzah and Othman, Noratikah and Doolaanea, Abd Almonem and Kumar, Jaya and Ibrahim, Wisam Nabeel and Mohamed, Wael Mohamed Yousef (2022) Characterization of neurobehavioral pattern in a zebrafish 1-methyl-4-phenyl-1,2,3,6- tetrahydropyridine (MPTP)-induced model: a 96-hour behavioral study. PLOS ONE. pp. 1-18. E-ISSN 1932-6203
Sharif, Mohd. Faez and Azizan, Nur Hafizah and Mohd Nasir, Mohd Hamzah and Abdullah, Nur Raihan and Wan-Mohtar, Wan Abd Al-Qadr Imad (2022) Bioreactor-grown exo- and endo-β-glucan from Malaysian Ganoderma lucidum: An in vitro and in vivo study for potential antidiabetic treatment. Frontiers in Bioengineering and Biotechnology. ISSN 2296-4185
Normah Haron, Nadia Norsyarina, Nur Farahin Puteri, Darnis Deny Susanti, Khairul Bariyyah Abdul Halim, Md Zin Noor Hasniza (2021). Molecular Docking of Polyphenol Compounds from Anacardium occidentalewith Alpha-Glucosidase and Dipeptidyl-Peptidase-4 Enzymes. Malaysian Journal of Fundamental and Applied Sciences, 17 (2). pp. 202-216. ISSN 2289-5981
Normah Haron, Nurul Izzaty Mohamad Yusof (2021). Proximate analysis of gluten-free milk boosting cookies containing banana flowers. Malaysian Journal of Chemistry, 23 (4). pp. 137-143. ISSN 1511-2292
Suzihaque M.U.H., Nur Syazwina, Habsah Alwi, Ummi Kalthum Ibrahim, Sureena Abdullah, Normah Haron (2022). Sustainability study of the processing of kitchen waste as a potential source of biofuel: biodiesel production from waste cooking oil (WCO). Materials Today: Proceedings, 63 (Supp. 1). pp. S484-S489. ISSN 2214-7853
Assia Sassi, Normah Haron, Muhammad Muzaffar Ali Khan Khattak, Hanapi Mat Jusoh (2022). Analysis of phenolic profile, total phenolic content and antioxidant activity in Anacardium occidentale leaves. Food Research, 6 (1). pp. 20-26
Research articles for 2021
Abdul Wahhab, Batool Hazim and Khairul Anuar, Nurul Fatin Syamimi and Abdul Wahab, Roswanira and Samsulrizal, Nurul Hidayah and Al-Nimer, Marwan S.M and Abdul Hamid, Azzmer Azzar and Edbeib, Mohamed Faraj and Kaya, Yilmaz and Huyop, Fahrul Zaman (2021) Characterization of a 2,2-dichloropropionic acid (2,2-dcp) degrading alkalotorelant Bacillus megaterium strain BHS1 isolated from Blue Lake in Turkey. In: International Conference By Biotechnology Society Of Nepal (ICBSN-2021), 12th-14th February 2021, Bhaktapur, Nepal. (Unpublished)
Aminudin, Nurul Iman and Ridzuan, Munirah and Darnis, Deny Susanti and Zainal Abidin, Zaima Azira (2021) Biotransformation of sesquiterpenoids: a recent insight. Journal of Asian Natural Products Research. pp. 1-44. ISSN 1028-6020 E-ISSN 1477-2213 (In Press)
Azahan, Siti Nurul Fatihah and Mohd Nasir, Mohd Hamzah and Mohd Salleh, Mohd Hazimin (2021) Naked Eye Colorimetric Glucose Detection Using Microplate Reader. Journal of Physics: Conference Series, 1892 (012020). pp. 1-5. ISSN 1742-6588 E-ISSN 1742-6596
Azizan, Nur Hafizah and Sharif, Faez and Zainal Abidin, Zaima Azira and Zainuddin, Zarina and Chowdhury, Ahmed Jalal Khan (2021) Growth optimization of mangrove Streptomyces for enhancement of actinorhodin production. Growth optimization of mangrove Streptomyces for enhancement of actinorhodin production. ISSN 1944-3994/1944-3986
Azizan, Nur Hafizah and Zainal Abidin, Zaima Azira and Sharif, Mohd. Faez and Zainuddin, Zarina and Khan Chowdhury, Ahmed Jalal (2021) Growth optimization of mangrove Streptomyces for enhancement of actinorhodin production. Desalination and Water Treatment, 219. pp. 217-222. ISSN 1944-3994 E-ISSN 1944-3986
Haron, Normah and Norsyarina, Nadia and Puteri, Nur Farahin and Deny Susanti, Darnis and Abdul Halim, Khairul Bariyyah and Noor Hasniza, Md Zin (2021) Molecular Docking of Polyphenol Compounds from Anacardium occidentalewith Alpha-Glucosidase and Dipeptidyl-Peptidase-4 Enzymes. Malaysian Journal of Fundamental and Applied Sciences, 17 (2). pp. 202-216. ISSN 2289-5981 E-ISSN 2289-599X.
Hassan, Ismail Bile and Hashi, Abdurezak Abdulahi (2021) Ethical concerns about the applications of artificial intelligence in healthcare practices: an explanatory review. Revelation and Science, 10 (2). pp. 9-17. ISSN 2229-9645 E-ISSN 2229-9947
Mohammed, Alotaibi and Ahmad Zahli, Khairil Ikhwan and Tengku Abdul Hamid, Tengku Haziyamin (2021) The isolation of Lactic acid bacteria strains from Black tips shark Carcharhinus limbatus producing bacteriocin with potential to be used as probiotic in aquaculture. In: International Conference By Biotechnology Society Of Nepal (ICBSN-2021), 12th-14th February 2021, Bhaktapur, Nepal. (Unpublished)
Mohd Nasir, Mohd Hamzah and Abdul Aziz, Salmi and Jusoh, Abdul Rashid and H. Ahmad, Asma and Othman, Zahiruddin and Ahmi, Aidi and Zakaria, Rahimah (2021) The 100 most cited articles in zebrafish: a bibliometric perspective. Egyptian Journal of Aquatic Biology and Fisheries (EJABF), 25 (2). pp. 935-946. ISSN 1110-6131 E-ISSN 2536-9814
Muzaini, Nurul Sherina and Mohd Jailani, Nurulhuda and Tengku Abdul Hamid, Tengku Haziyamin (2021) Characterisation of Stenotrophomonas maltophilia isolated from marine sponge producing salt tolerant proteases. Journal of Agrobiotechnology, 12 (1). E-ISSN 2180-1983
Nazira Mahmud, Nazira and M. H. Ting, Ting Mee Hee and Ansari, Nor Faezah (2021) Physical pretreatment of food waste for reducing hydrogen-consuming bacteria. Current Science and Technology, 1 (1). pp. 1-8. E-ISSN 2785-8804
Razali, Khairiah and Othman, Noratikah and Mohd Nasir, Mohd Hamzah and Doolaanea, Abd Almonem and Kumar, Jaya and Ibrahim, Wisam Nabeel and Mohamed Ibrahim, Norlinah and Mohamed, Wael Mohamed Yousef (2021) The promise of the Zebrafish model for Parkinson's disease: today's science and tomorrow's treatment. Frontiers In Genetics, 12. pp. 1-17. ISSN 1664-8021
Ridza, Muhammad Aa'zamuddin Ahmad and Azhari, Nur Syamimi and Hashi, Abdurezak Abdulahi and Noor Azmi, Azran Azhim Noor Azmi and Sha'ban, Munirah (2021) Relevant local fatwā on the issues of using human tissues in articular cartilage tissue engineering experimentation. International Medical Journal Malaysia (IMJM), 20 (1). pp. 127-135. ISSN 1823-4631 E-ISSN 2735-2285
Rosli, Ruhan Asyrani and Shamsul Harumain, Zakuan Azizi and Zulkalam, Mohd Faizuddin and Abdul Hamid, Azzmer Azzar and Sharif, Mohd. Faez and Mohamad, Mohd Azrul Naim and Noh, Abdul Latif and Shahari, Rozilawati (2021) Phytoremediation of Arsenic in Mine Wastes by Acacia mangium. Remediation, 2021. pp. 1-11. ISSN 1520-6831
Shamsul Harumain, Zakuan Azizi and Sharif, Mohd. Faez and Dzolkifle, Nurul Alia Nabilah (2021) THE POTENTIAL OF SILICA FROM RICE HUSK ASH ON REMOVAL OF SULPHIDE IN WASTEWATER. In: International Conference on Bioengineering and Technology, 24 - 25 May 2021, Online.
Sharif, Mohd Faez and Azizan, Nur Hafizah (2021) Growth optimization of mangrove Streptomyces for enhancement of actinorhodin production. Desalination and Water Treatment, 219. pp. 217-222. ISSN 1944-3994 E-ISSN 1944-3986
Tengku Abdul Hamid, Tengku Haziyamin (2021) A collection of rRNA sequences for Stenotrophomonas spp. strains Isolated from marine sponge that are capable of producing salt tolerant proteases. Other. UNSPECIFIED, US.
Zainal Abidin, Zaima Azira and Ahmad, Asmat and Usup, Gires and Khan Chowdhury, Ahmed Jalal (2021) Marine actinomycetes from Malaysia marine environments with antagonistic potential. Desalination and Water Treatment, 219. pp. 51-59. ISSN 1944-3994 E-ISSN 1944-3986
For more articles published in 2020 and before, please browse to http://irep.iium.edu.my/
Newspaper articles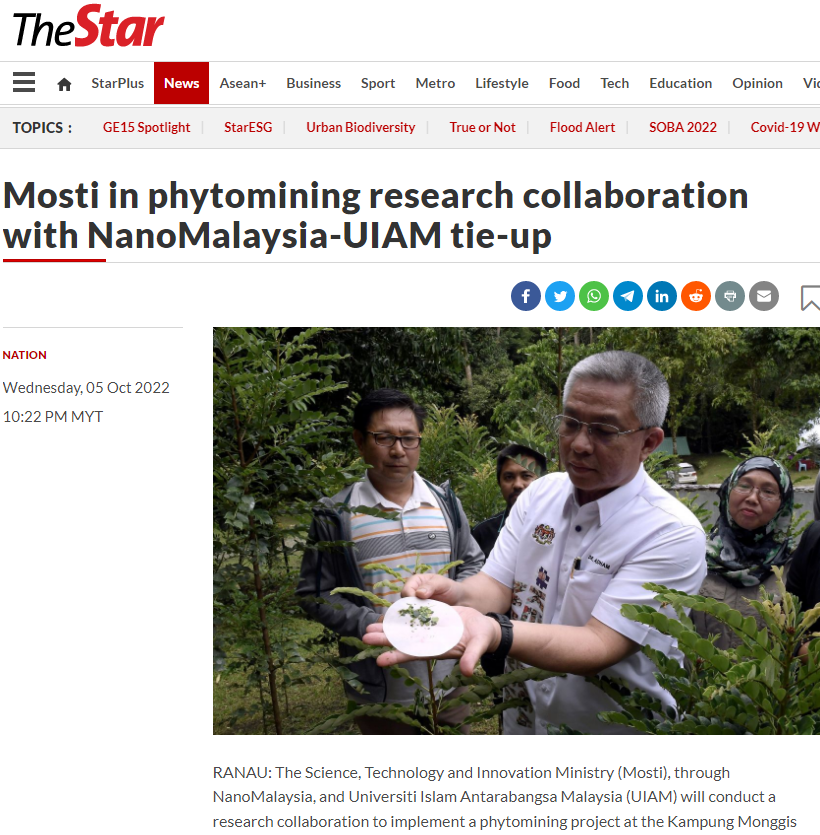 The Star, 5 October 2022, Dr. Zakuan Azizi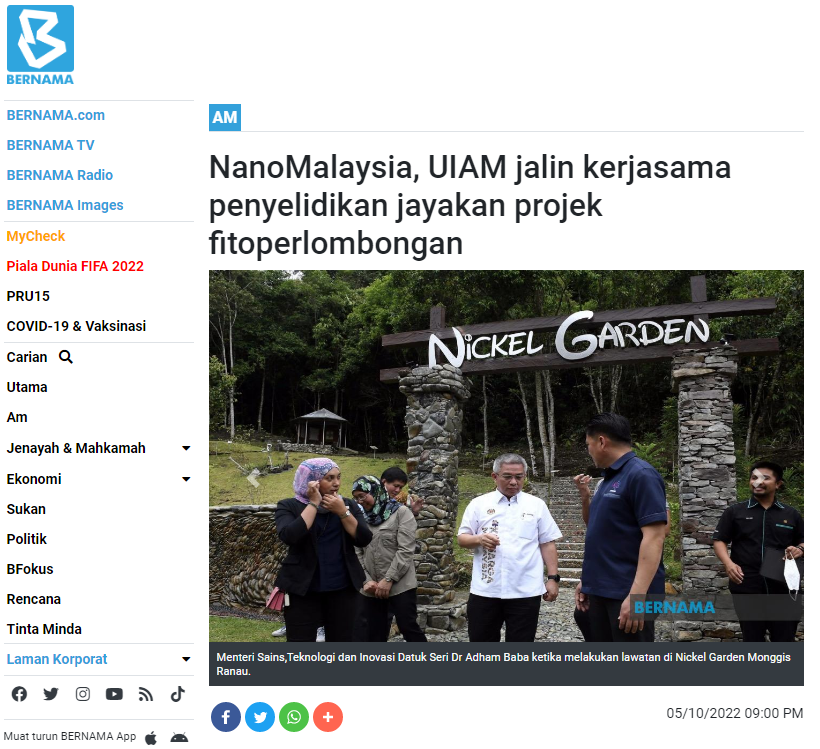 Bernama, 5 October 2022, Dr. Zakuan Azizi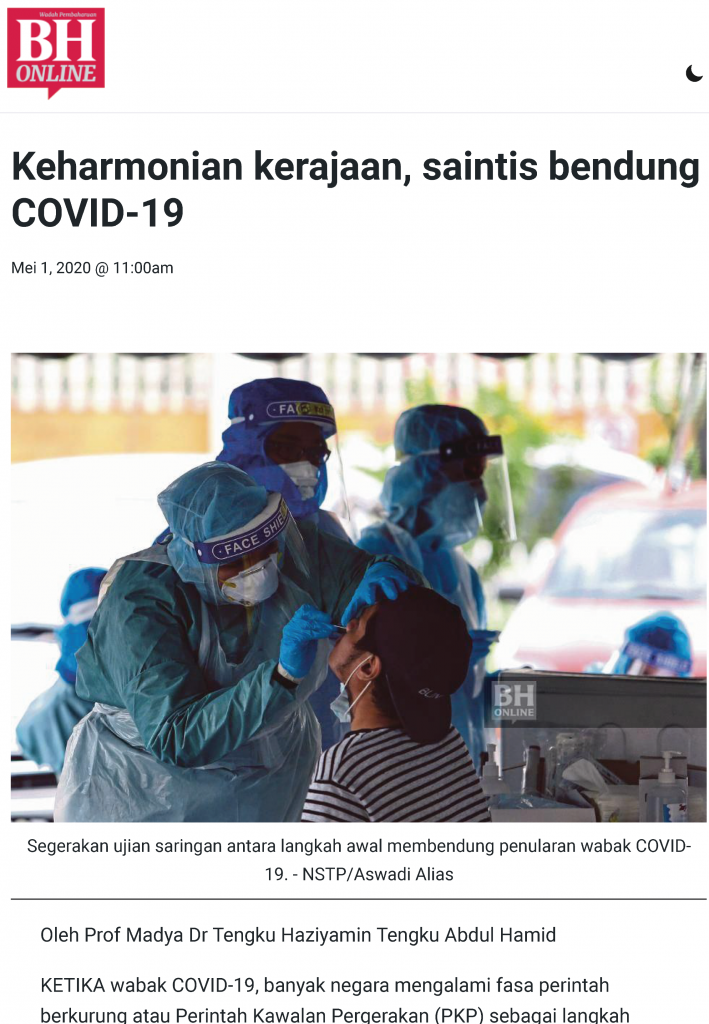 Berita Harian, 1 May 2020, Prof. Dr. Tengku Haziyamin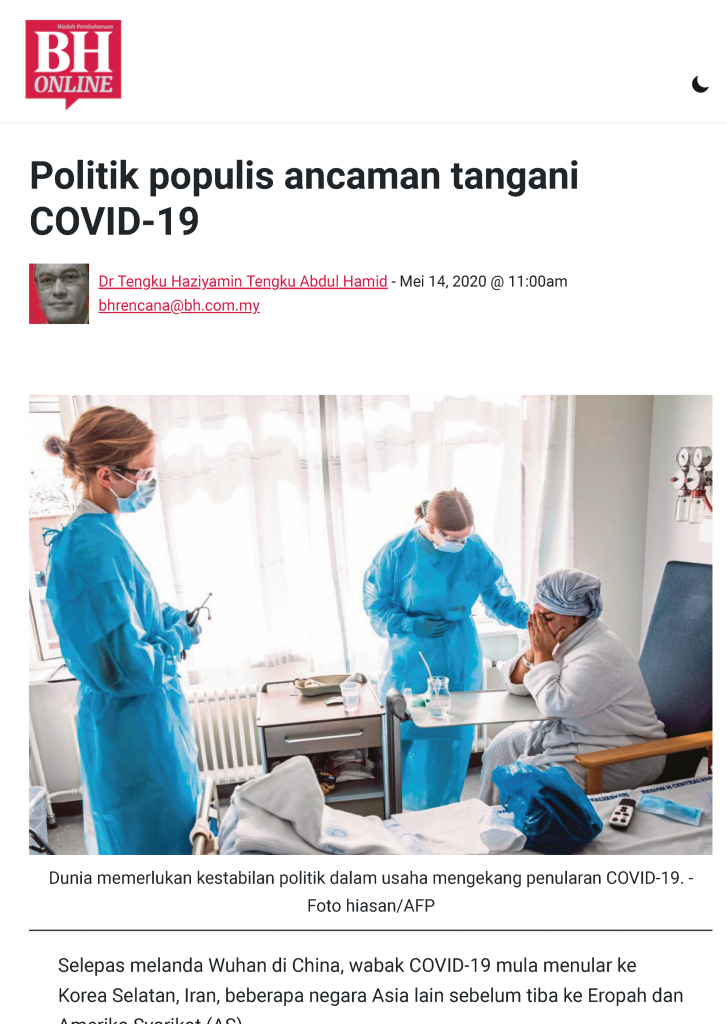 Berita Harian, 14 May 2020, Prof. Dr. Tengku Haziyamin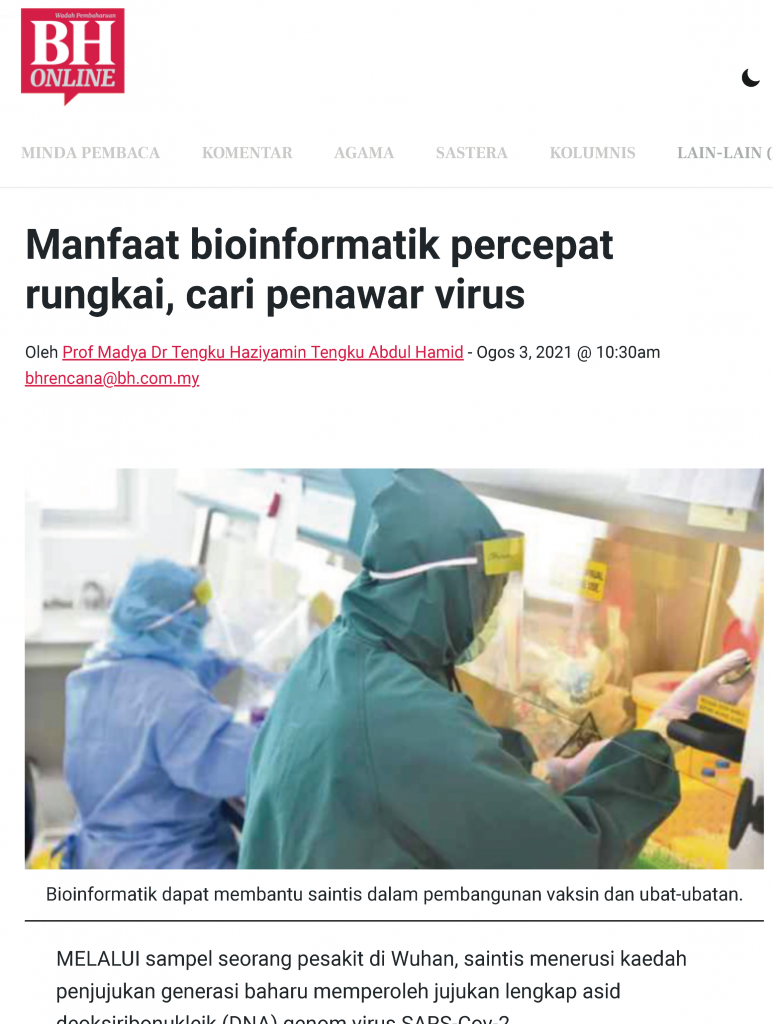 Berita Harian, 3 August 2021, Prof. Dr. Tengku Haziyamin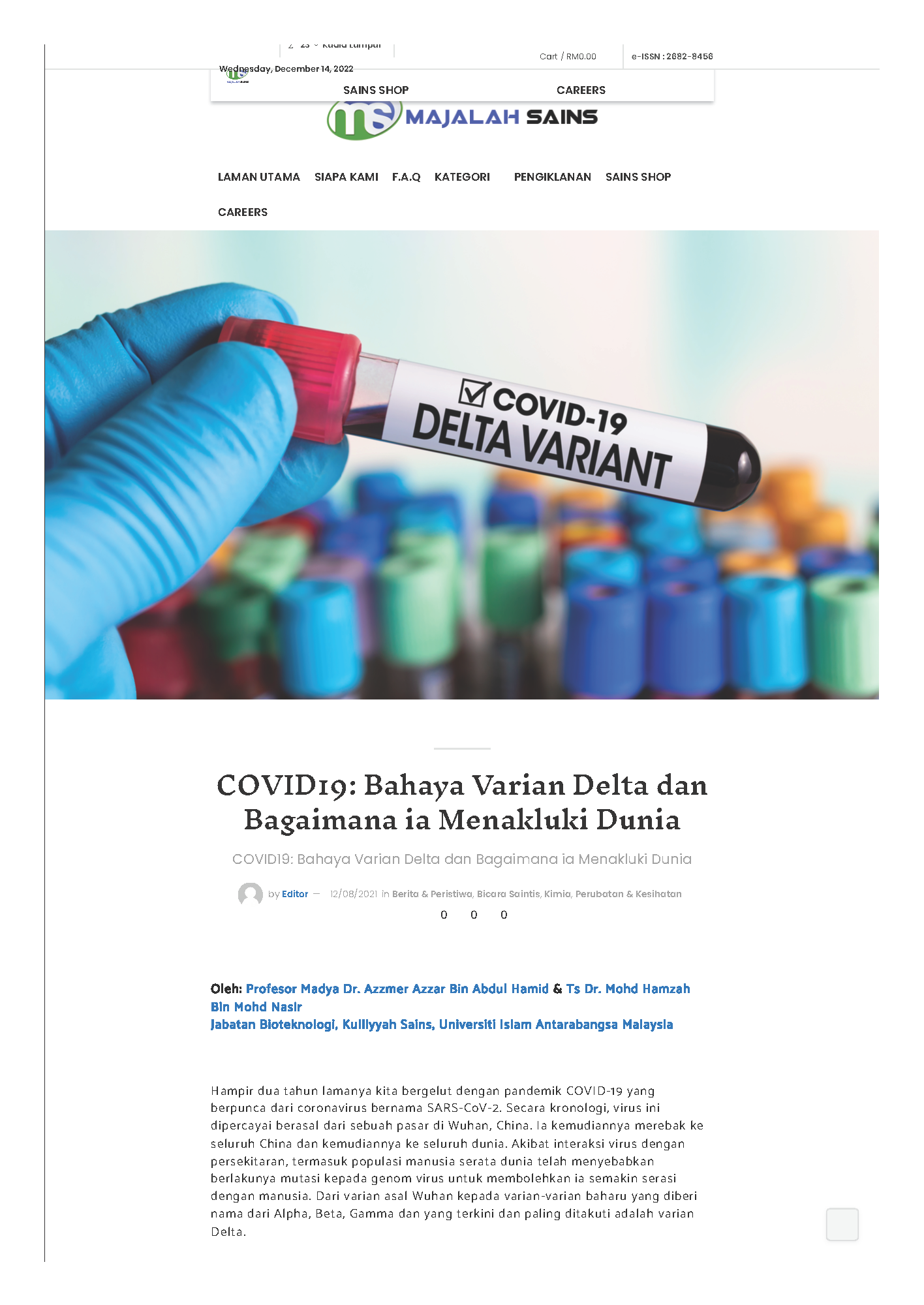 Majalah Sains, 13 August 2021, Dr. Hamzah Nasir & Assoc. Prof. Dr. Azzmer Azzar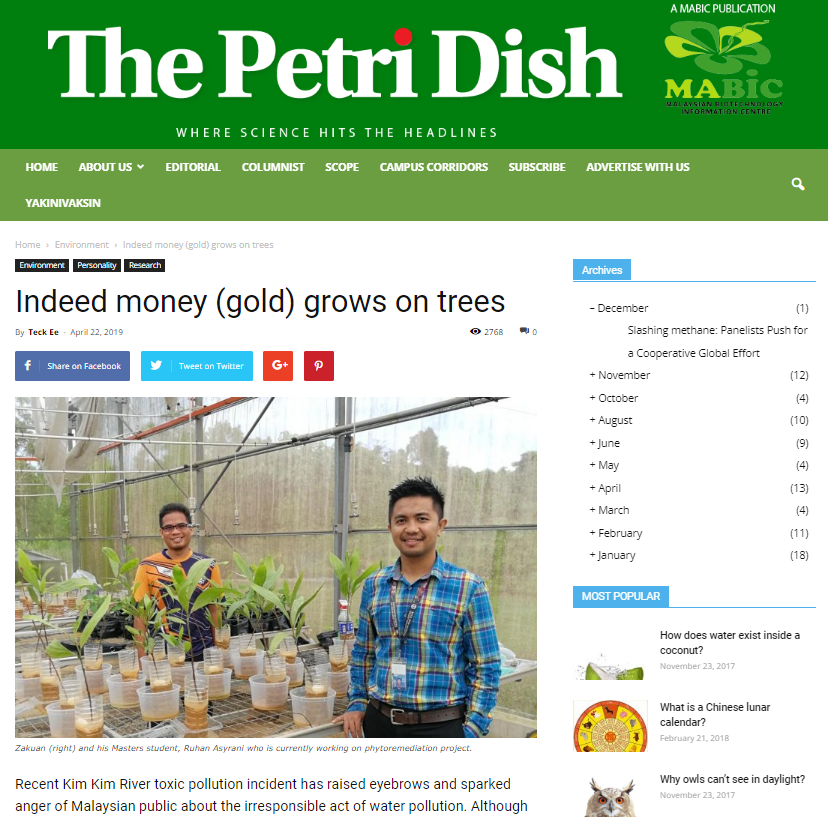 The Petri Dish, 22 April 2019, Dr. Zakuan Azizi
"All work and no play makes Jack a dull boy"
Some of the pictures taken during students activities with lecturers, staff and community.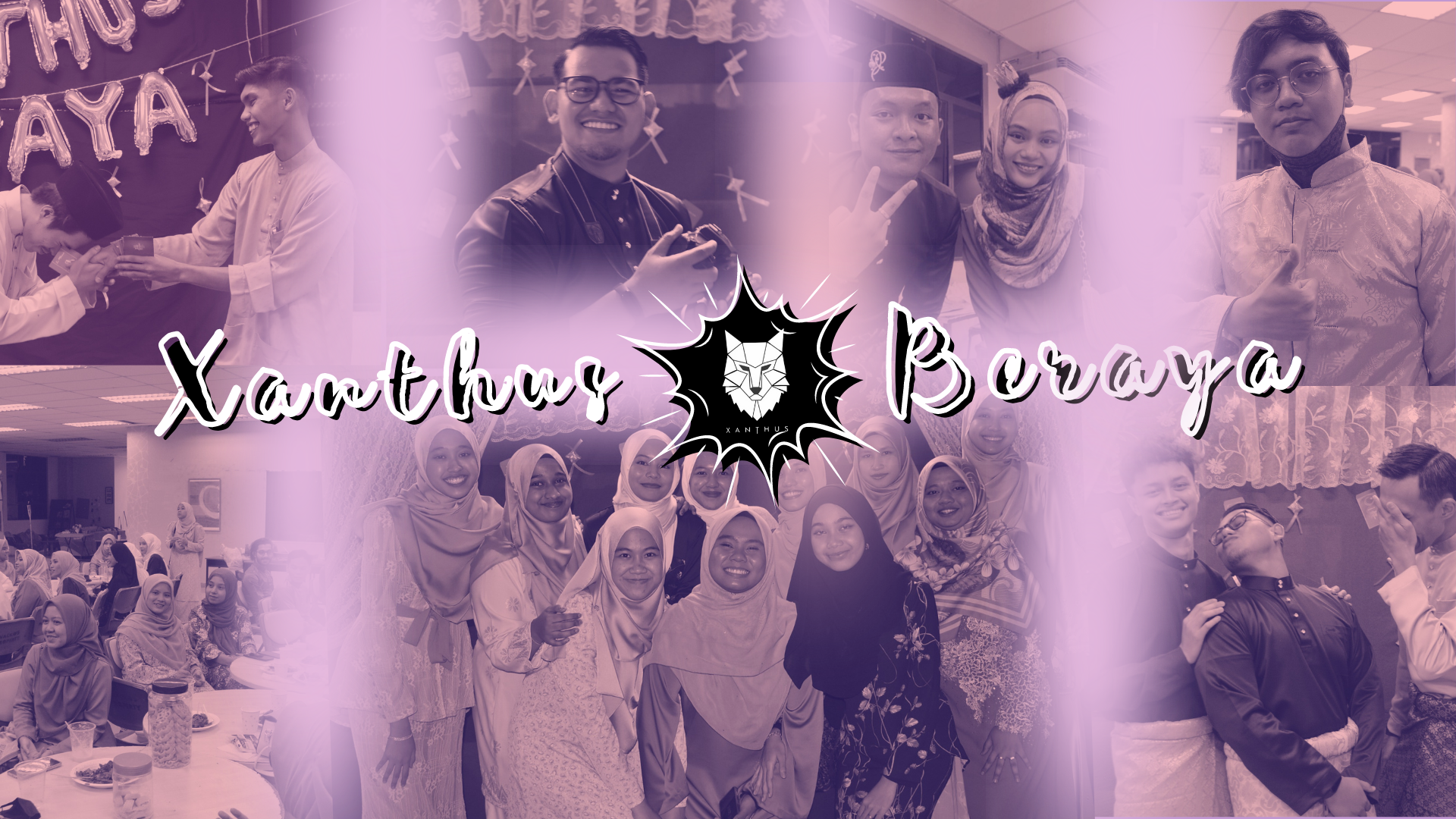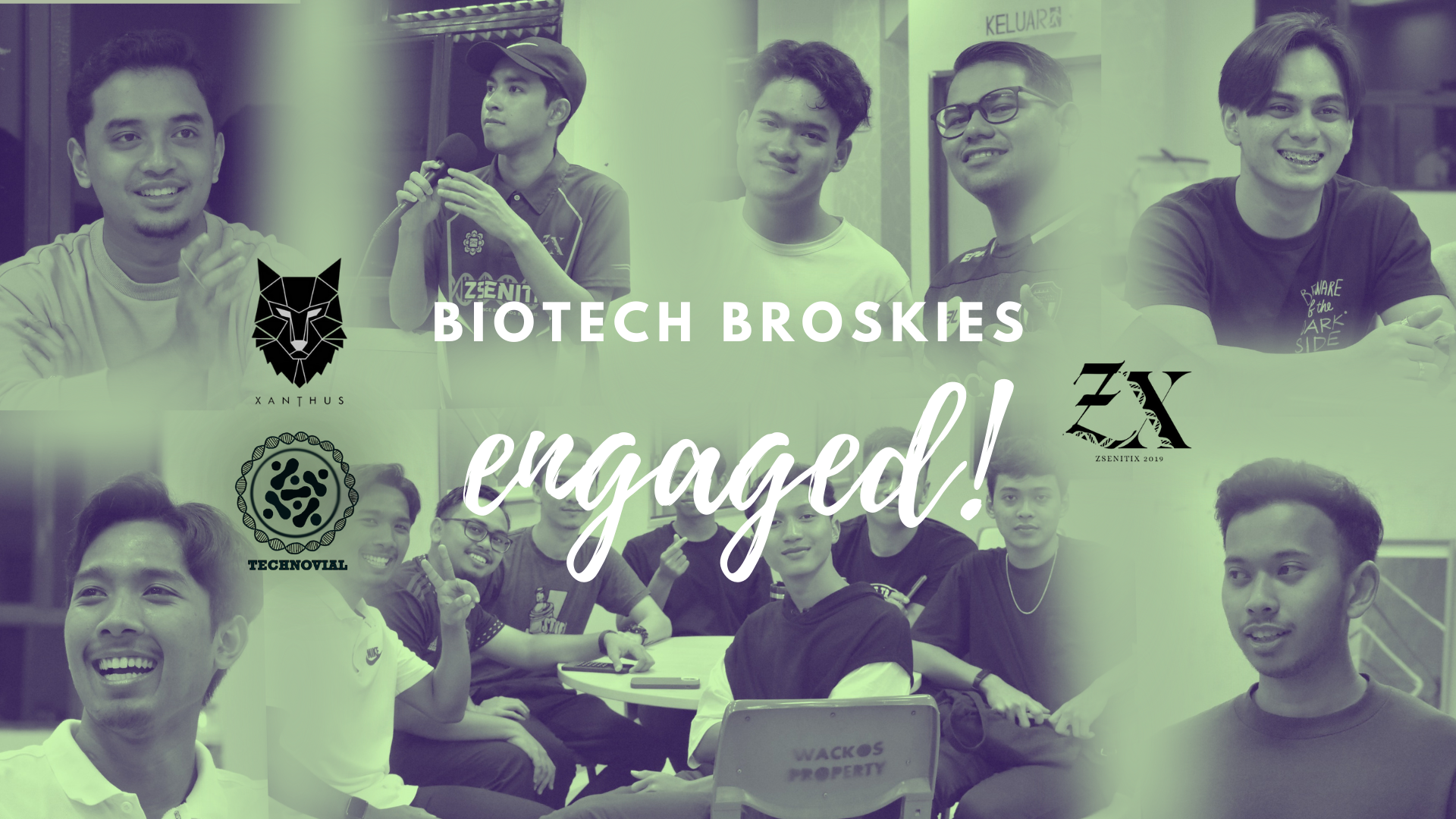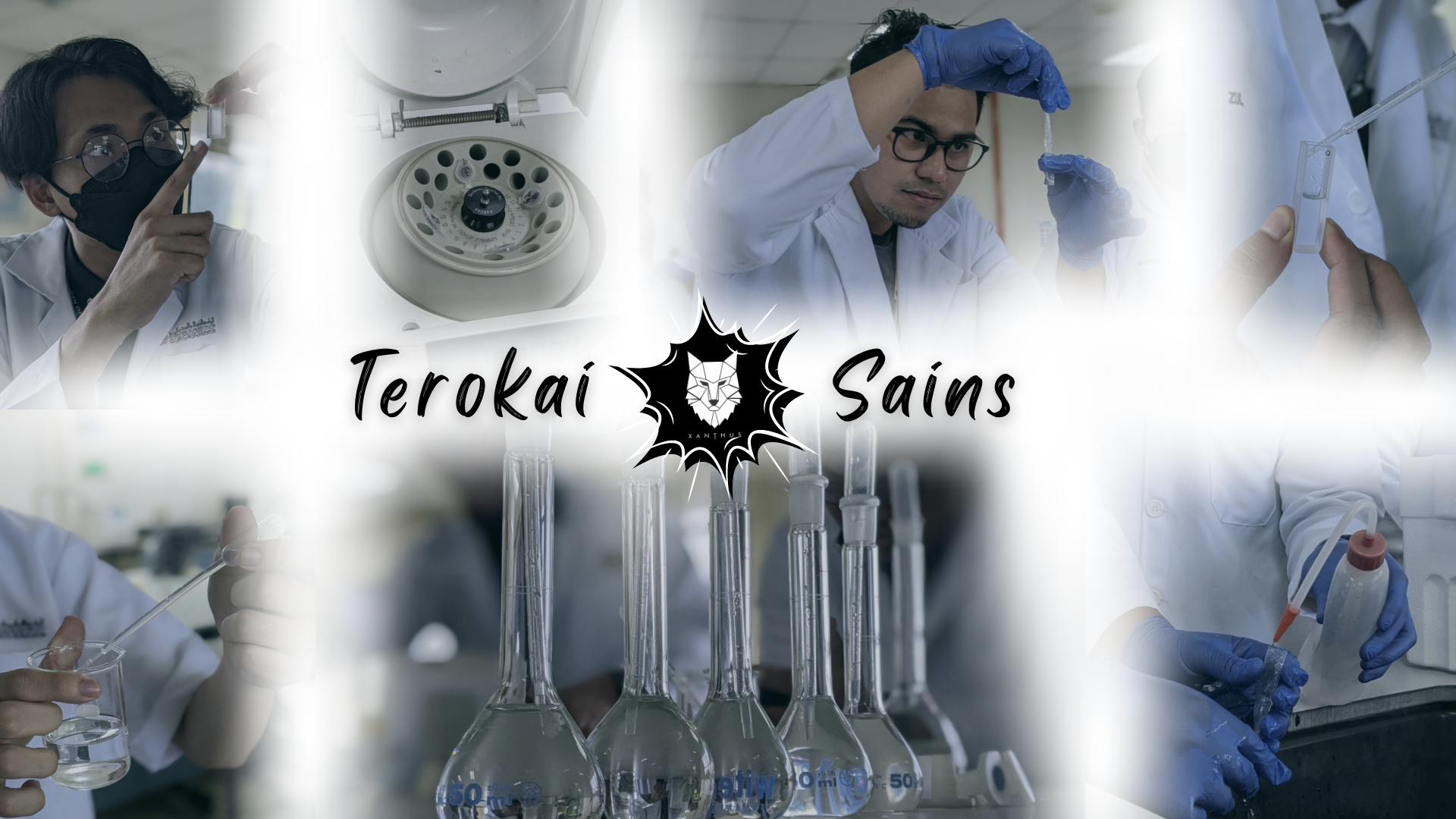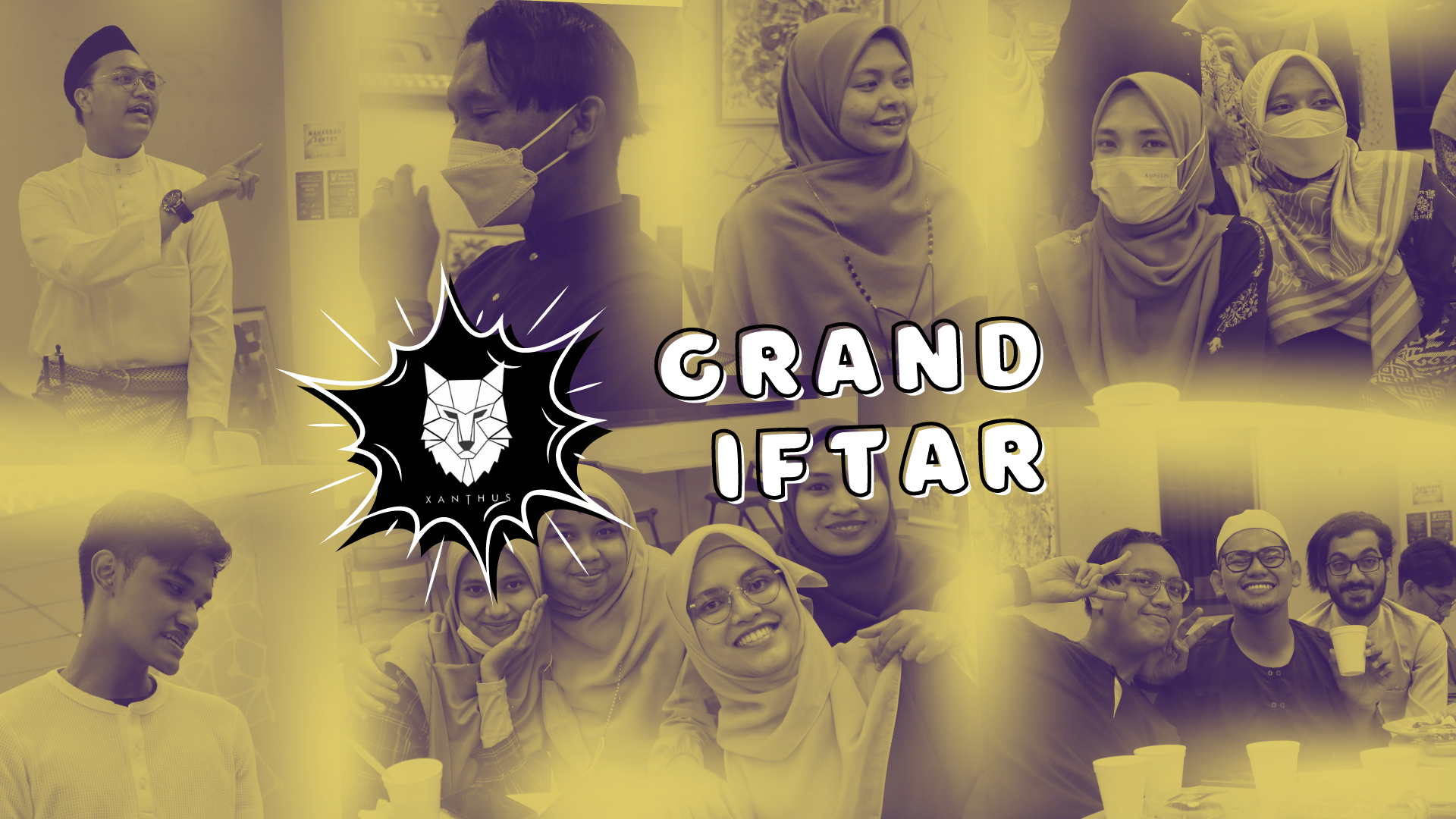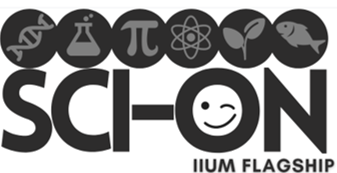 Sci-ON is a long term science outreach programme mainly focusing on increasing student's interest and awareness to science related subjects. It is also a platform where different departments in IIUM can work together collaboratively on science outreach activities under one roof. This will allow the school students to be exposed to various opportunities in science, hoping to ignite their passion in science and increase their desire to do well in their examination enabling them to take science stream in Form 4 or even after school. Each participating department has developed science outreach modules that will be used throughout this programme and also to other schools as well.
As a start, we are very grateful to have SMK Indera Mahkota 2 as our first collaborator, many thanks to the principal, Puan Nor Azizah Abd Hadi in allowing us to conduct the outreach programme. We had conducted food biotechnology outreach programme organized by Department of Biotechnology IIUM to school students of SMK Indera Mahkota 2. Kudos to all academics and also facilitators from IIUM MySTEM Ambassador in making this event a success!
Previous community STEM outreach programs
Industry engagement
CEO Faculty Program (CFP) is an initiative by the Ministry of Education to enhance the collaboration and linkages between industry and University. The program gives academics the opportunity to be attached with reputable industry and industry leaders.The first batch of CFP 2.0 graduated in March 2018 and the CFP 2.1 began their attachment in September 2018 for the next six months. Congratulations and all the best to our very own Asst. Prof. Ts. Dr. Zakuan Azizi Shamsul Harumain who has been selected to participate in this program and currently doing his attachment with Nano Malaysia!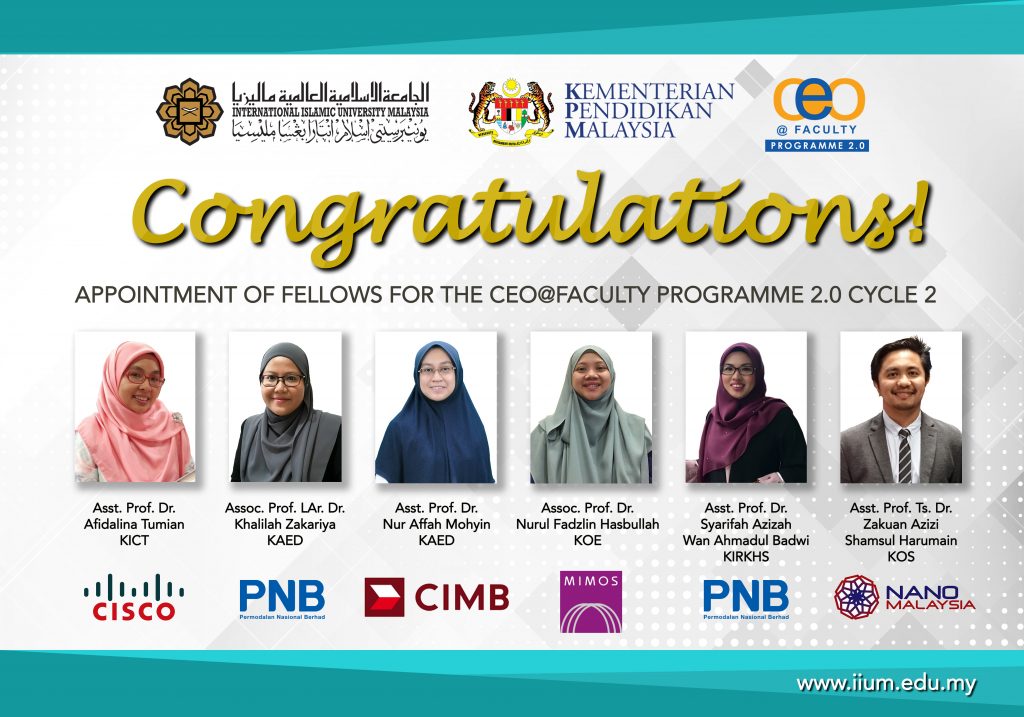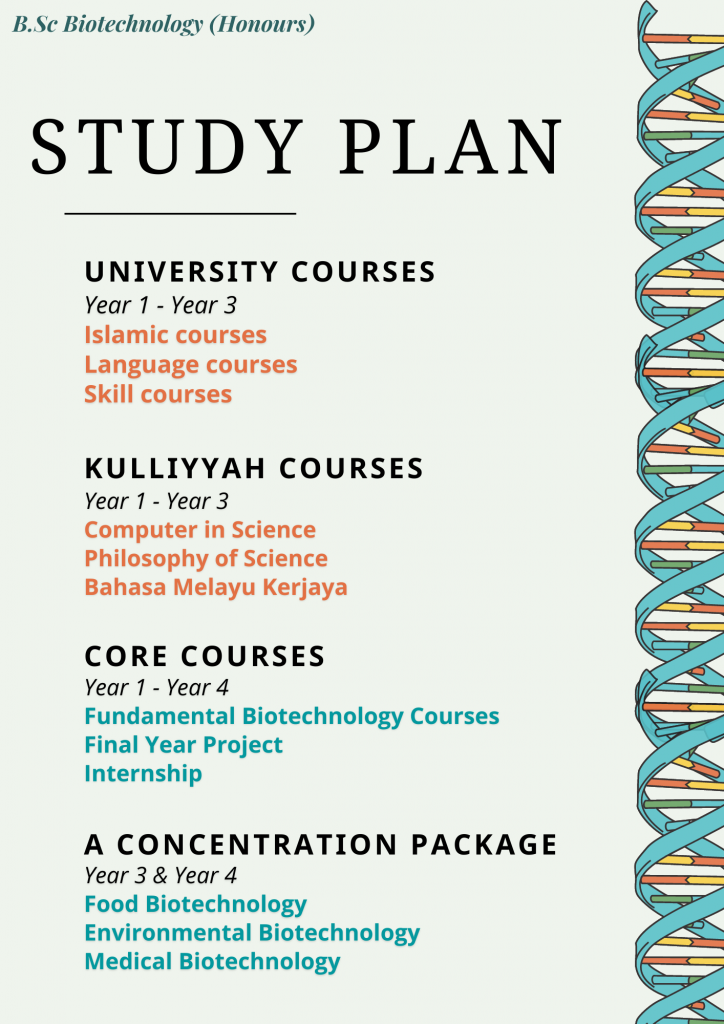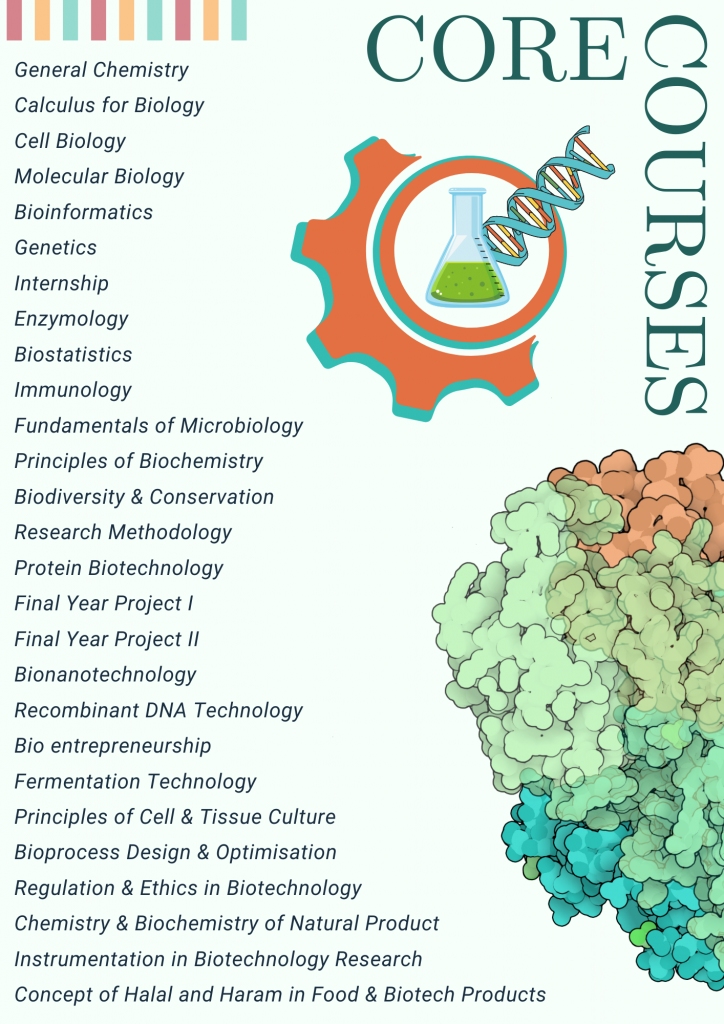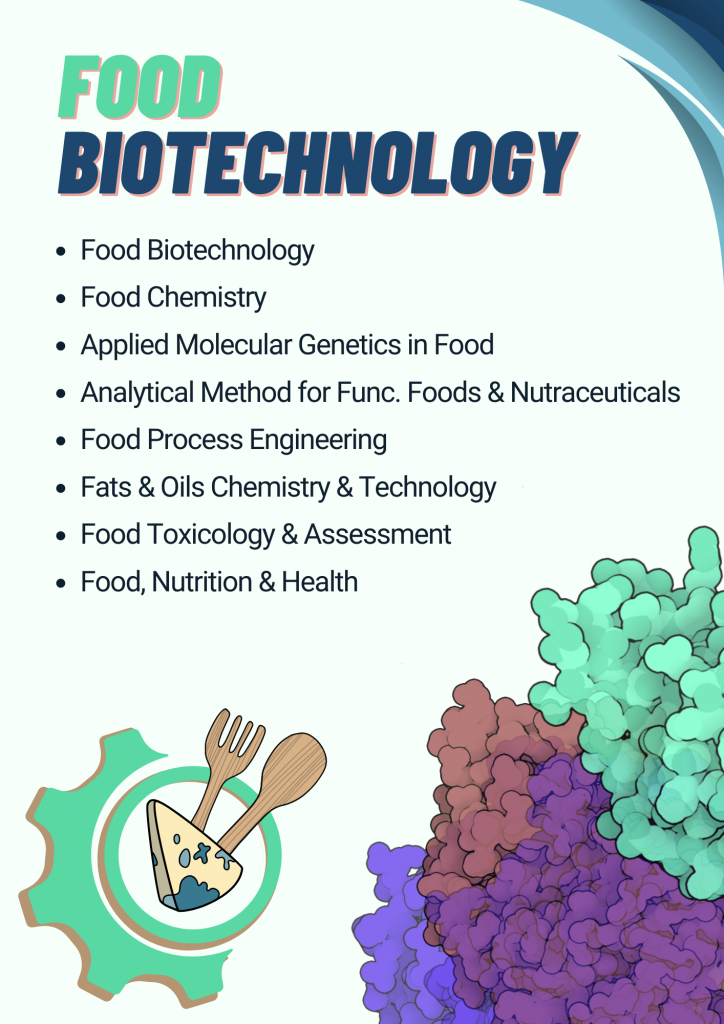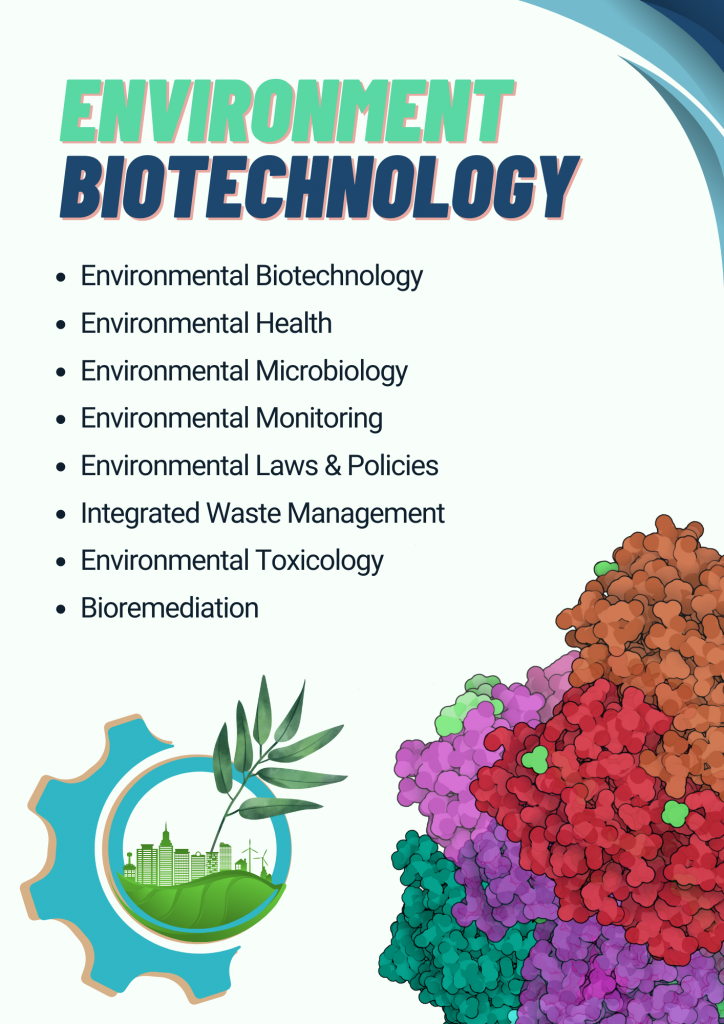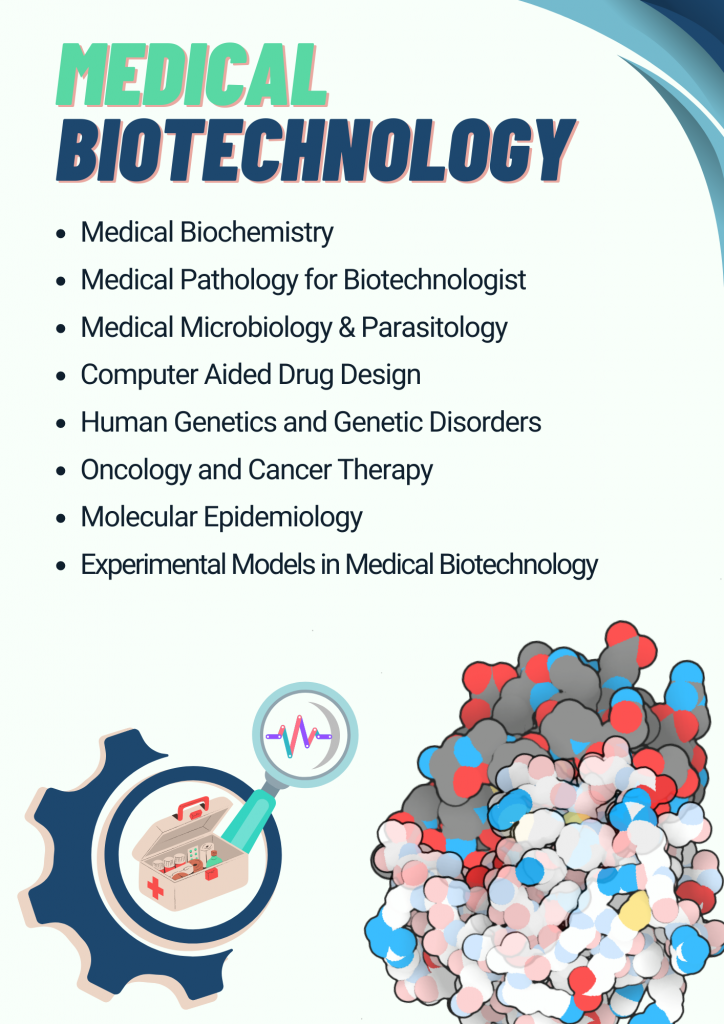 On going alumni engagement programs with students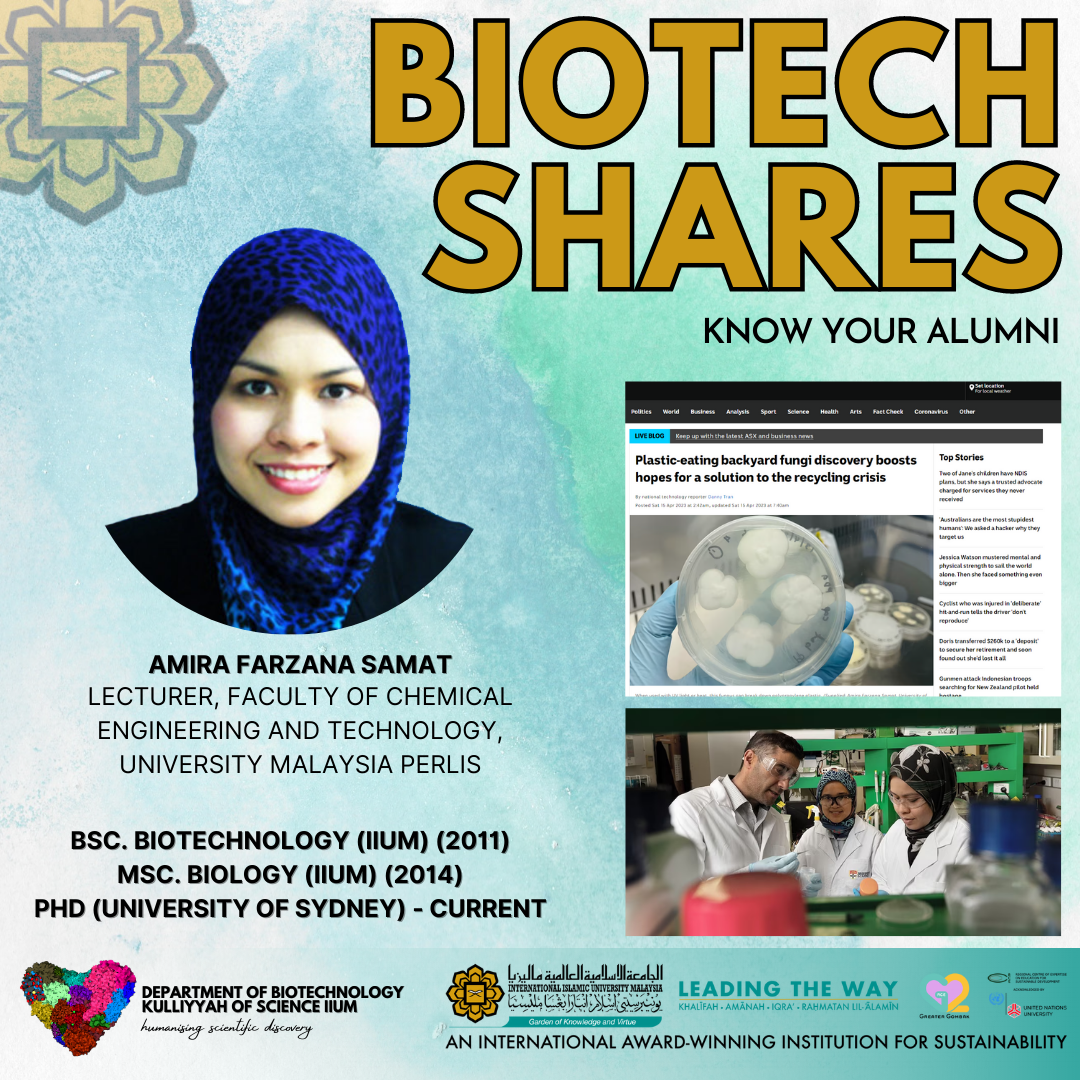 Congratulations to our alumni member, Sr. Amira Farzana Samat (class of 2011) on her recent feature in ABC Australia highlighting your impressive research work on fungi that can break down plastic! She is now currently doing her PhD at the University of Sydney, Australia. All the best Sr. Mir!
Sci-Art is the joining of science and art. Scientific structures or molecules can be enhanced through art and design with various colors or digital editing. Sci-Art offers an interesting opportunity for those who are interested in both or even one of the field.
The pioneer for Sci-ART for department of biotechnology is Assoc. Prof. Dr. Azzmer Azzar Abdul Hamid.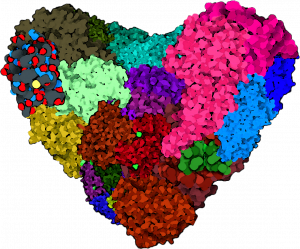 The heart shape consists of protein structures generated by Dr. Azzmer Azzar representing all research areas covered by all academic members in department of biotechnology, IIUM which are environment, food, marine and medical biotechnology.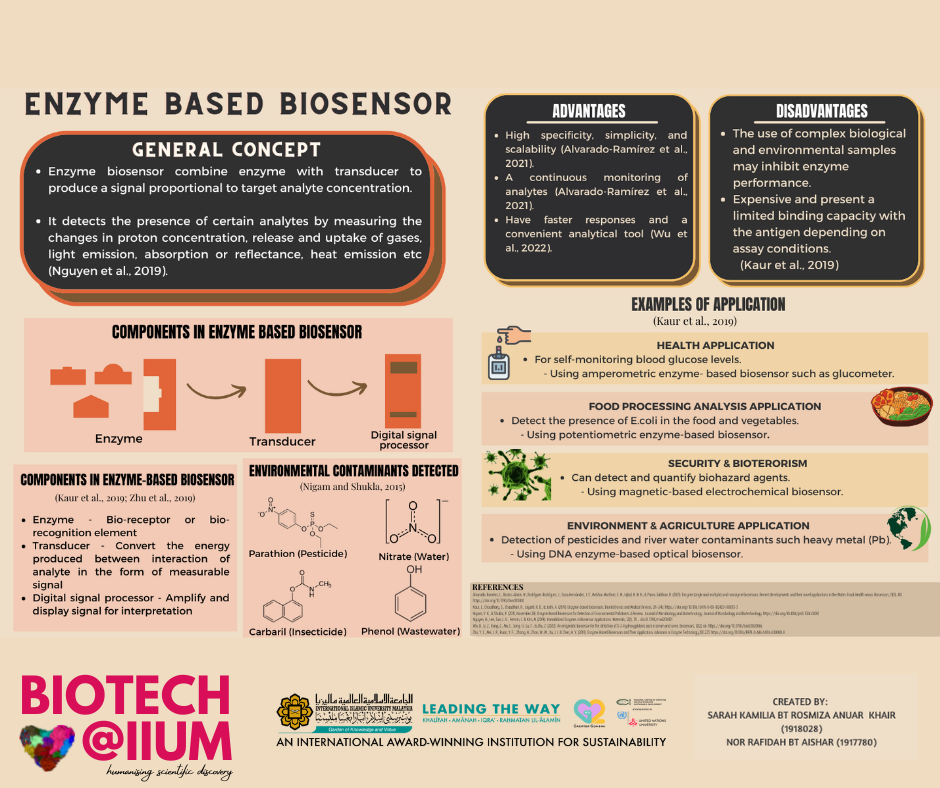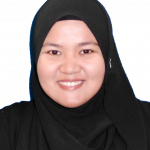 For any official matters or inquiries related to department of biotechnology, 
email us
intaneliza@iium.edu.my /

biotechkuantan@iium.edu.my


or call us at
09 – 570 5032
or visit us at
Department of Biotechnology, Kulliyyah of Science, International Islamic University Malaysia, Jalan Sultan Ahmad Shah, 25200, Kuantan, Pahang, Malaysia