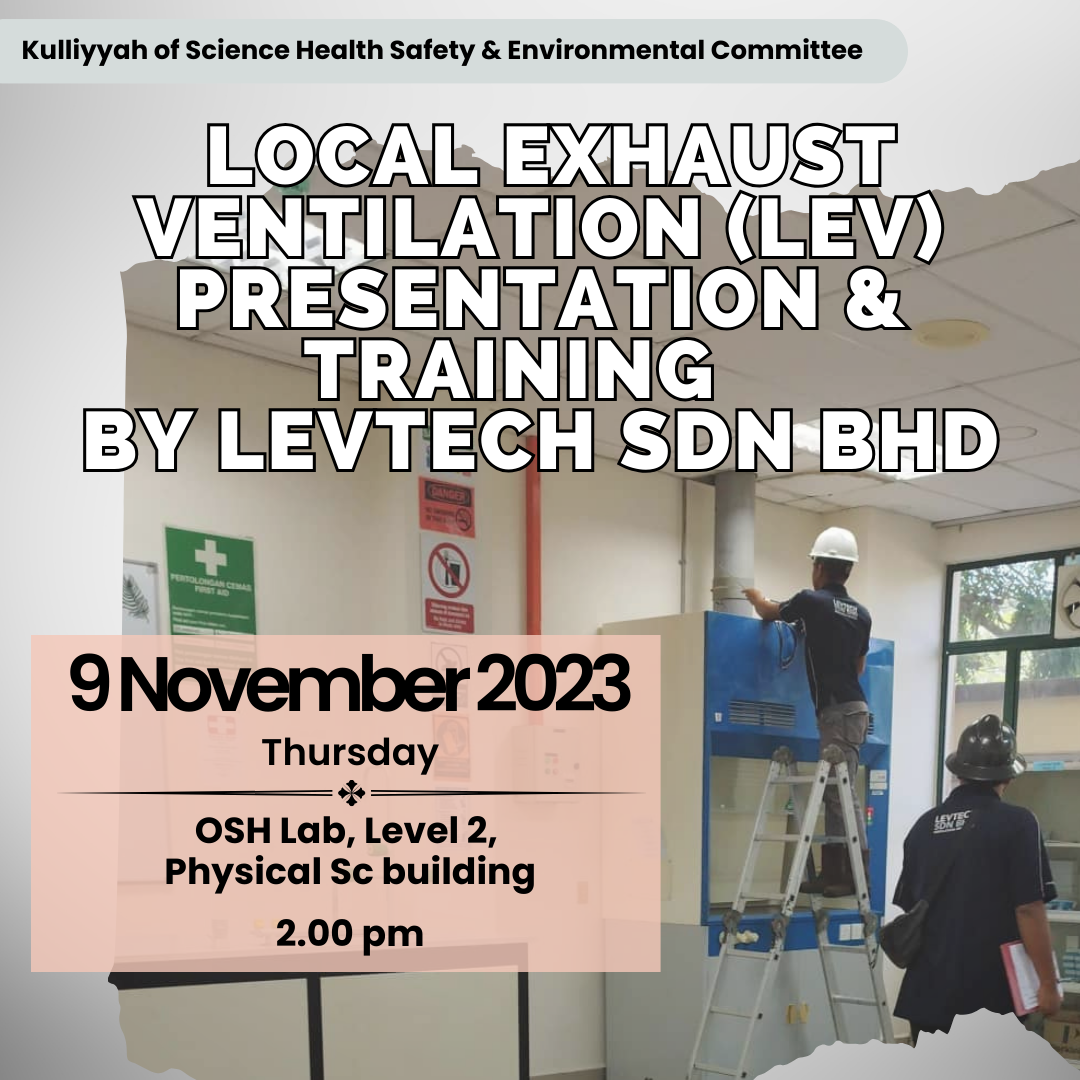 [KOSHSEC] LOCAL EXHAUST VENTILATION (LEV) PRESENTATION & TRAINING BY LEVTECH SDN BHD
47
47 people viewed this event.
Assalamualaikum wrbt,
Dear Prof/ Assoc. Prof/ Asst. Prof/ Dr/ Br & Sr,
On behalf of Kulliyyah of Science Health Safety and Environmental Committee (KOSHSEC), you are invited to join below training on LOCAL EXHAUST VENTILATION (LEV)

Date: 9 November 2023 (Thursday)
Time: 2.00 pm
Location: OSH Lab, Level 2, Physical Science Building, KOS
The presentation and hands-on training will be conducted by LEVTECH Sdn Bhd.
For your information, Local Exhaust Ventilation (LEV) includes our fume hood, biological safety cabinet and laminar flow hood in our lab.
KOSHSEC are responsible for ensuring the exposure to the hazard (including chemical vapour) is minimal and complies with the standard. Thus, by doing this inspection of LEV we are hoping to provide a safe and healthy workplace. But most importantly, this inspection is regulatory under the Occupational Safety and Health Act 1994.
I encourage the supervisor of the research lab, lab users and students to join this session. This is your right to know the status of your LEV in your laboratory.
Do you think you are safe in your lab? You may find your answer tomorrow!
The attendance link will be shared during the event.
InshaAllah see you tomorrow. Should you require the LEV inspection report for your lab, please let me know. Thank you.
Thank you and wasaalam.
KOSHSEC Subcommittee Training Unit, KOS