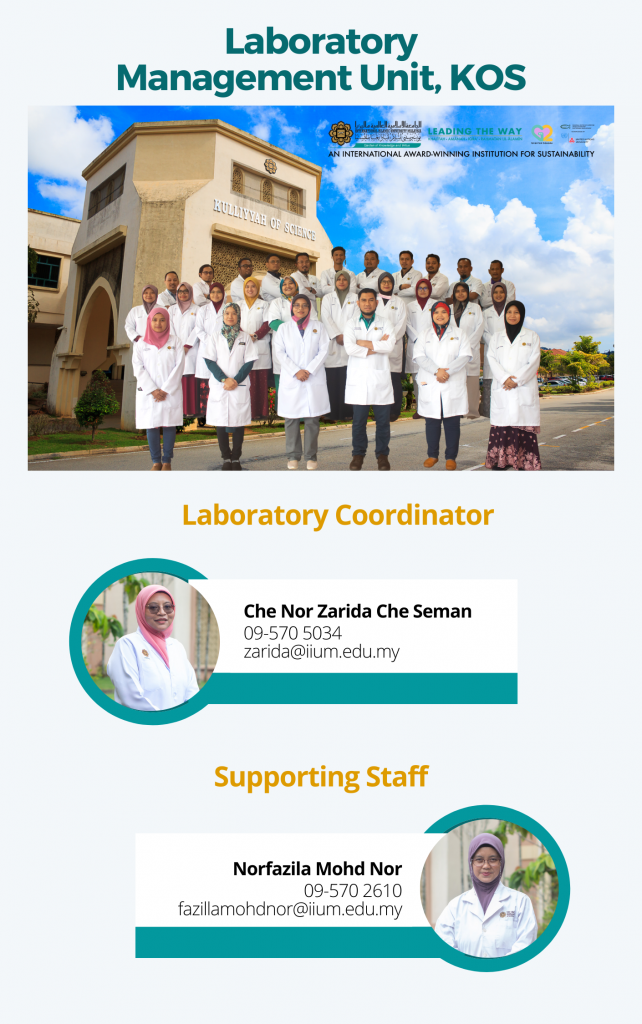 Laboratory Management is a sub-organization under Kulliyyah of Science that provides services mainly to the students in terms of the practical learning process.
The Laboratory Management consisting of Laboratory Coordinator, Science Officers (SO), and Assistant Science Officers (ASO) are the key personnel assisting lecturers and students in laboratory practical classes and research works.
Laboratory Management staff are experienced analytical instrument operators and possess vast knowledge in various research methodologies.
Welcome to the Laboratory Management and Health Safety Environmental Management System (HSEMS)
There are six (6) departments under the Kulliyyah of Science which include Department of Biotechnology, Marine Science & Technology, Chemistry, Physics, Plant Science and Computational & Theoretical Sciences. All teaching and learning activities related to laboratories are monitored and handled by Laboratory Management Unit with supervision of Laboratory Coordinator.
Kulliyyah of Science housed several modern and well-equipped facilities for our staff, students, researchers and collaborators to conduct their research activities. The facilities range from High Pressure Liquid Chromatography (HPLC), Atomic Absorption Spectrometry (AAS), Fourier Transform Infrared Spectroscopy (FTIR) and etc. All these high-end instruments are technically managed and supported by laboratory staffs. 
Our Plant Tissue Culture Laboratory and Inductively Coupled Plasma Mass Spectrometry (ICP-MS) have certified with MS ISO 14001:2015 and MS ISO 45001:2018 Standards.
In Kulliyyah of Science, we are very committed in conducting a healthy research and lab management ethics. Therefore, all of the lab users including staff and students are required to adhere to the rules and regulations as stated in the handbook.
Feel free to download our handbook and laboratory forms
        1. Chemical Request Rev 2 
        2. Glassware Request Rev 2 
        3. Disposable and Consumable Request Rev 2 
        4. Animal Request - Not Available
        5. Borrowing Equipments Request Rev 1 
        6. Booking Lab Special task Rev 2 
        7. Service Maintenance  
        8. Field Sampling Rev 1 
        9. Final Year Project Clearance Form Rev 1 
       10. Postgrad Clearance Form
       11. Booking Lab Form
       12. Off Kulliyyah's Facility Rev 1 
       13. Key Borrowing
       14. Access.Door Control Card Request Form (for Bio Building Only)
       1. Flow Chart equipment and services booking
       2. List of Instruments and Charges Rate for Sample Analysis Services
       3. Sample Analysis Service Request Form
       6. Customer Survey Form (KOS Sample Analysis Service)
       7. Customer Satisfaction Survey Form (KOS Sample Analysis Service)
Any queries, please do not hesitate to contact any of us below
Laboratory Coordinator
Che Nor Zarida Binti Che Seman
Science Officer
Sr. Norrul Afzan Zainal Abidin