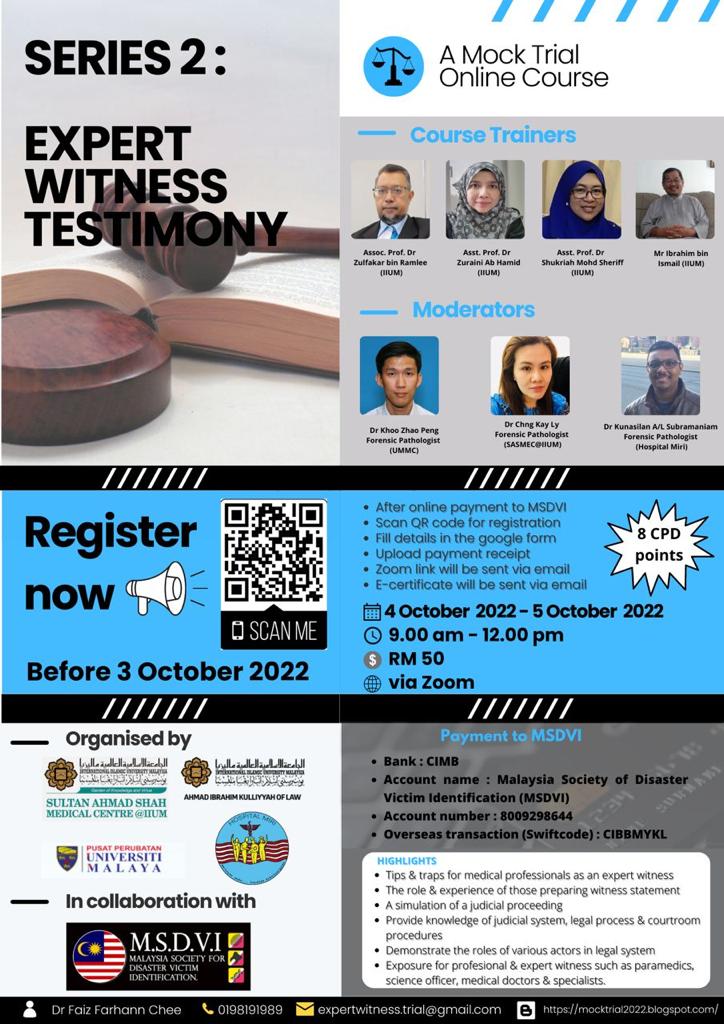 SERIES 2 : EXPERT WITNESS TESTIMONY
21
21 people viewed this event.
Assalamualaikum and Good Day Everyone!!
Mock trial online course is back guys ! 💪🏻
Come one ! come all !
We are bringing back the courtroom experience to you 🏛
Join us in our Mock Trial Online Course Series
SERIES 2 : EXPERT WITNESS
TESTIMONY
Date : 4 – 5 October 2022
Time : 9.00 am till 12.00 pm.
Platforms : via ZOOM
Registration fee : RM 50
Organised by 🤝:
Ahmad Ibrahim Kulliyah of Laws
(AIKOL), IIUM
Department of Forensic Medicine ,
Hospital Miri.
Department of Forensic Medicine,
UMMC.
SASMEC @ IIUM
Malaysia Society for Disaster
Victim Identification , (MSDVI)
🌟8 CPD pts are up for grabs🌟
Payment Details 💳
Bank : CIMB
Account name : Malaysia Society of
Disaster Victim
Identification
(MSDVI)
Account number : 8009298644
Overseas transaction
(Swiftcode) : CIBBMYKL
After payment & registration is done, participants will be given confirmation email & ZOOM link for the course via email.
E-certificate for the course will be sent via email as well.
✨Highlights ✨
The role & experience of those
preparing witness statement
Tips & traps for medical
professionals as an expert witness
A simulation or enactment of a
judicial proceedings
Provide knowledge of judicial
system, legal process & courtroom
procedures
Demostrates the roles of various
actors in the legal system
Exposure for profesional & expert
witness such as paramedics,
science officers, medical doctors
& specialists
Register now! 👇
https://docs.google.com/forms/d/e/1FAIpQLSeRkfKFZOuZQy3h1SAfqqQRpIz0MQViTqW6JWHGJEaNrG_y-Q/viewform?usp=sf_link
For more info please contact :
Dr Faiz Farhann Chee – 0198191989
expertwitness.trial@gmail.com
Blogspot: https://mocktrial2022.blogspot.com
FB : @ForensicHospitalMiri