INTRODUCTION

Diet is a very important aspect of life and our dietary habits are closely related to our health. Our Klinik Diet is committed to educate the community on proper nutrition and health concerns by offering all-round dietetic programmes. It is a teaching and training centre that complements both nutrition and dietetic services offered by IIUM Diet Clinic (Klinik Diet UIAM) and provides the means for further research and development to help us benefit the community and for the betterment of Ummah.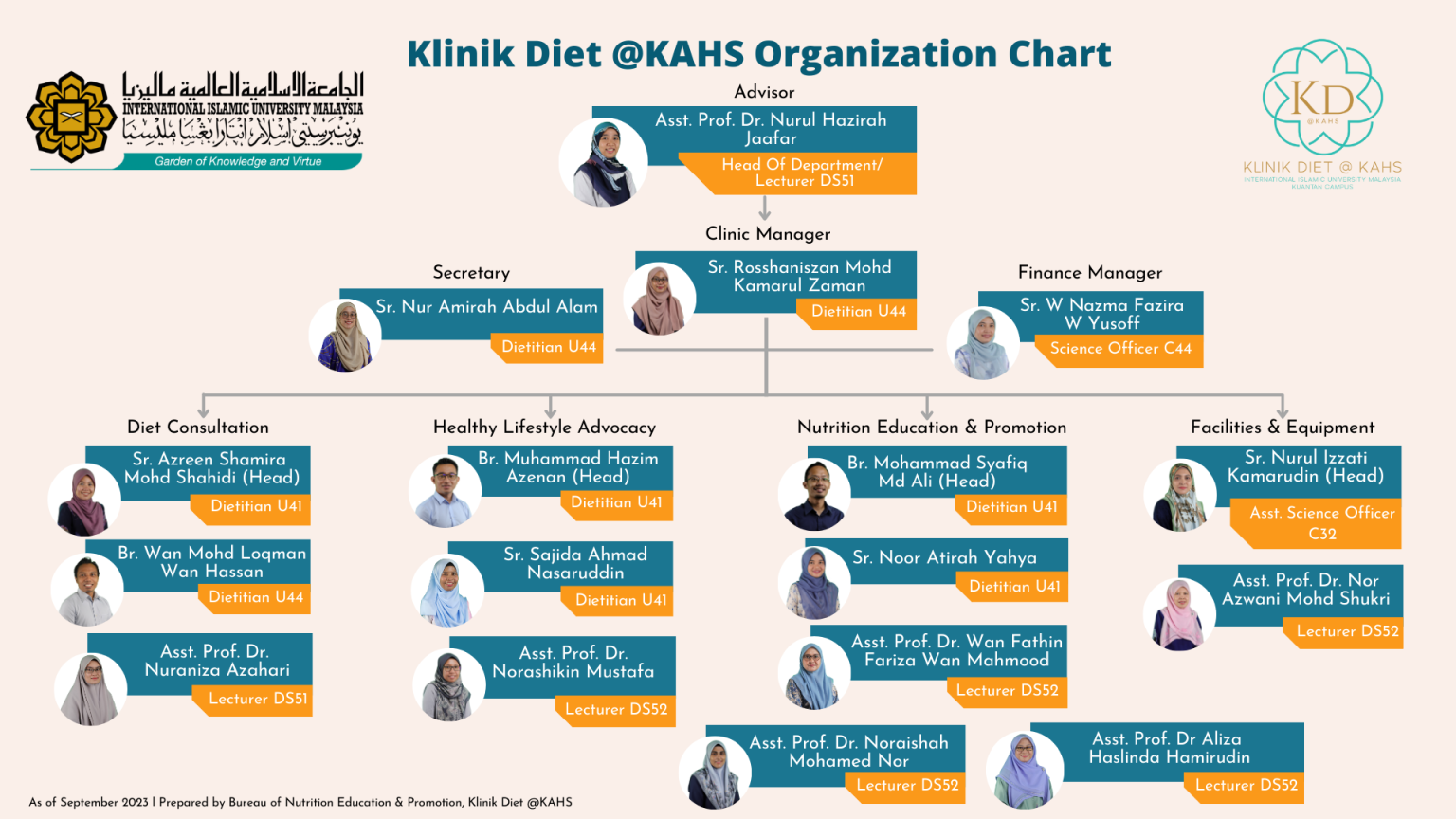 BACKGROUND
The IIUM Diet Clinic was officially established on 11th October 2019 and currently operated by dietetic lecturers, dietitians and science officers. In view of  COVID-19 pandemic in early 2020, IIUM Diet Clinic expanded our services from individualize face to face consultation to additional of ONLINE dietary consultation as one of our approach to address nutrition related health concern of public starting from 2nd November 2020.
OBJECTIVES
To promote the community on healthy eating and lifestyle.
To provide easily accessible resources and reliable nutrition intervention.
To integrate theoretical knowledge and clinical practice in the management of diet disorders.
To accurately perform nutritional examination and evaluation using evidence-based practice.
To diagnose nutritional related disorders based on the findings from the case history, clinical observation, and evaluation.
To devise and execute a management plan consistent with the patients and/or caregivers' needs.
To organize and manage diet awareness and screening programs.
To identify the current developments in nutrition through continuous dietetic education.
OUR SERVICES
Individual Nutrition Consultation
With us, your weight, body composition and diet history will be evaluated by a dedicated dietitian. Individualised tailor-made advice will then be given to help you achieve a desirable goal and optimal health status. Follow up consultations will be arranged to assess any changes in your weight, dietary habits and your compliances towards nutritional advises given during the first visit.
The dietary consultation available including: 
Weight managements
Non-communicable Diseases (Diabetes, Hypertension, Dyslipidemia)
Cardiovascular Diseases
Renal diseases
Cancer cases
Pediatric cases (failure to thrive, pediatric with special needs)
Tube feeding management
How to contact us?
IIUM Diet Clinic (Klinik Diet UIAM)
Kulliyyah of Allied Health Sciences
International Islamic University Malaysia
Kuantan Campus
Tel: 09-5705293 ext: 3360
Our social media
Facebook:  Klinik Diet UIA Kuantan
YouTube channel: Klinik Diet UIAM Kuantan
Instagram: Klinik Diet UIAM Kuantan