Gombak, 11th December 2022.  The IIUM Moots and Client Consultation Club (MCCC) of Ahmad Ibrahim Kulliyyah of Laws (AIKOL) had on 10th – 11th of December 2022 successfully organised the annual Ahmad Ibrahim Advocacy Competition for the year 2022 in International Islamic University Malaysia.
This internal competition comprising of a client consultation competition and moot court competition which was held physically in AIKOL has been participated by the law students from AIKOL.
Six firms with four partners each had been set up and registered in this competition and they were Messrs Ainin & Associates, Messrs Akmal & Associates, Messrs Harith & Partners, Messrs Izzat & Partners, Messrs Norman & Co and Messrs Zikry & Associates.
The competition began with the client consultation competition on the 10th of December 2022 which was subsequently followed by the moot court competition on the 11th of December 2022. The final round for the client consultation competition was presided by our own Madam Suzanna Kamaruzzaman from AIKOL, Mr Jeremy Ooi Jian Rong and Mr Hoo Yee Huan from Shook Lin & Bok while the final round for moot court competition was presided by YA Dato Mary Lim Thiam Suan, the justice of the Federal Court of Malaysia and four senior litigators namely Mr Chan Kok Keong, Mr Dershandev Singh, Mr Izzat Asyraf and Ms Ainur Rabiatuadawiyah binti Hassim.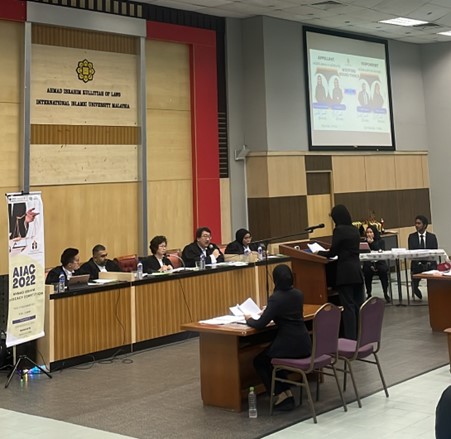 Upon conclusion of the competition, Messrs Harith & Partners had emerged and been declared as the champion for both the client counselling and moot court competition. Mohamad Aiman Ilhami from the team Messrs Izzat & Partners" was declared as the best counsel for the client consultation competition whereas Meor Danish Irfan from the team "Messrs Harith & Partners" was declared as the best oralist for the moot court competition.
A closing ceremony was also held towards the end of the event on 11th of December 2022 where the Dean of AIKOL, Prof. Farid Sufian Shuaib had graciously delivered his closing remarks for this event.
Mr. Chan Kok Keong, a partner of Shook Lin & Bok which provided the largest contribution to the competition, shared his observation too in his remarks during the closing ceremony.