Gombak, 23 September 2022. Three keynote speakers deliver addresses full of thought-provoking views on the second day of the International Conference on Maritime Security in Southeast Asia co-organises by Ahmad Ibrahim Kulliyyah of Laws (AIKOL) of the International Islamic University Malaysia (IIUM) and Fakultas Hukum, Universitas Gadjah Mada (UGM).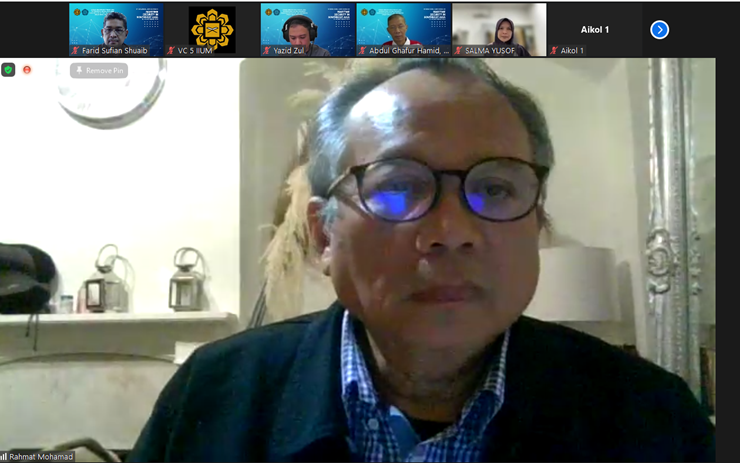 Professor Dato' Dr. Rahmat bin Mohamad from Faculty of Law, Universiti Teknologi MARA (UiTM), Malaysia delivers a keynote address entitled "Claims for Maritime Entitlements in the South China Sea: The Way Forward". He highlights the importance of the South China Sea as the main artery for the maritime traffic between the Western Pacific and the Indian oceans that carries a third of the world maritime traffic. He points out the overlapping claims over maritime entitlements under the UN Law of the Sea (UNCLOS) including the territorial sea, contiguous zone, Exclusive Economic Zone and continental shelf, and claims from islands.
He shares his positive views on the resolutions of these overlapping claims and put forward the options of using the International Court of Justice (ICJ), the International Tribunal of the Law of the Sea (ITLOS) and the Conciliation Council to resolves the claims.
Professor Tan Sri Dato' Dzulkifli Bin Abdul Razak, the Rector of International Islamic University Malaysia officiates the opening of the jointly organised conference.
For the opening of the conference: – [https://kulliyyah.iium.edu.my/aikol/issues-relating-to-the-maritime-security-in-southeast-asia-need-to-be-confronted-and-resolved/]