Gombak, 22 September 2022. Three keynote speakers delivers important messages on the first day of the International Conference on Maritime Security in Southeast Asia co-organises by Ahmad Ibrahim Kulliyyah of Laws (AIKOL), International Islamic University Malaysia (IIUM) and Fakultas Hukum, Universitas Gadjah Mada (UGM).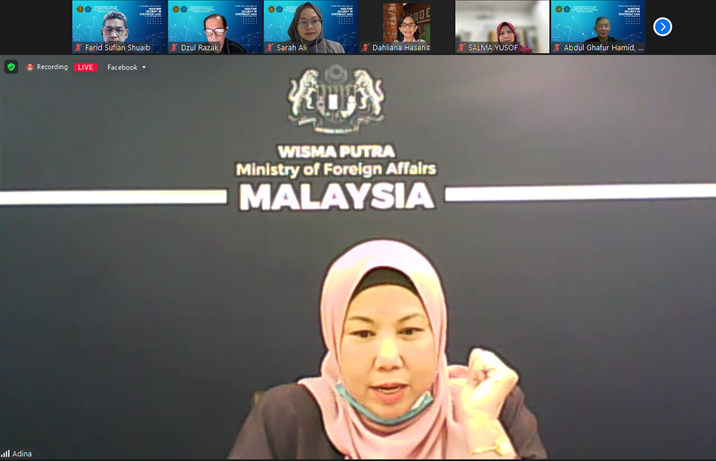 Dr. Adina Kamarudin, the Director General of the Department of Maritime Affairs, Ministry of Foreign Affairs, Malaysia delivers the second keynote address entitled "Maritime Security Threats of the 21st Century: Issues and Challenges". She highlights the different stakeholders in maritime security with stakeholders' conflict and interdependence. She also underlines the impact of climate change on the global ocean policy and governance.
Dr Adina Kamarudin underscore the significance of co-organising of the conference between IIUM and UGM since resolution of conflict and interdependence issues of maritime security requires cooperation between countries in the Malay Archipelago. She shares that bilateral and multilateral discussion and agreement have commenced to resolve the related issues. All parties, particularly in matters of overlapping maritime boundaries claims should exercise restraints to avoid unintended and untoward incidents.
Professor Tan Sri Dato' Dzulkifli Bin Abdul Razak, the Rector of International Islamic University Malaysia officiates the opening of the jointly organised conference.
For opening of the conference: – [https://kulliyyah.iium.edu.my/aikol/issues-relating-to-the-maritime-security-in-southeast-asia-need-to-be-confronted-and-resolved/]