Program/MQR No.
Bachelor of Landscape Architecture (Honours): MQR Code 10225
2. Introduction
The Bachelor of Landscape Architecture (Honours) programme (B.LA) aims to produce professionals in the field of landscape architecture who are competent, highly creative and innovative. The landscape architecture paradigm is extended in planning and designing a living environment conducive to people. The focus is geared towards the understanding of the human's role as the "caliph" on earth. As stewards of the earth, the landscape architect profession has been and will always continue to play a major role in the built environment design discipline. The objective of this programme in Kulliyyah of Architecture and Environmental Design is to demonstrate the commitment of IIUM in contributing to the defining and identifying of a sustainable society that responds affirmatively to the need of a high quality natural and built environment. The graduates of this programme are a part of the University's continuous development of solutions to serve the Ummah and the nation.
3. Program Outline
Graduates of the programme are expected to achieve one or more of the following outcomes:
Graduates who are competitive and advanced in the profession of Landscape Architecture, equipped with knowledge in the art and science of planning and design, through the Tawhidic approach and application of Islamic values.
Graduates who demonstrate responsibilities and commitment towards the natural, physical and social environment through incorporating research, construction and technology for the betterment of the Ummah.
Graduates who practice their entrepreneurial skills through their professions, with the ability to lead, manage and cooperate in team-work for the success of a project.
4. Career Opportunities
The B.LA graduates have a wide range of job prospects. These include:
Landscape Architect to serve government agencies and local authorities.
Corporate Landscape Architect to work as a consultant, designing and implementing landscape architectural works in a wide range of projects, such as parks, neighbourhood, commercial and township developments, urban design, eco-tourism, conservation, landscape master planning, etc.
Project Manager to manage projects.
Landscape Specialist to specialize in certain fields and able to advise clients in matters such as Environmental Impact Assessment (EIA), Landscape Character Analysis, etc.
Researcher to conduct research in various aspects of the built and natural environment, ecology and culture through working with various research agencies.
Landscape Contractor to involve with various landscape projects such as construction, maintenance and management.
Nursery Managers to maintain and manage plant nursery business, supply and maintain public gardens and parks.
Educators in universities, polytechnics, community colleges and schools.
Entrepreneurs to develop new business opportunities.
5. Program Structure
The B.LA is a 4-year programme. Students commence their studies in the first year after completing the foundation program of AED in the Centre of Foundation Studies (CFS) from SPM entry requirement. A streamlining exercise will be conducted at the end of the foundation studies to evaluate the qualifications of students to be enrolled in the B.LA programme.
For other entry requirements, the candidates are required to have a Diploma in Landscape Architecture, Diploma of Architecture, Diploma in Urban Regional Planning, or other related fields in the built environment with a design background. The minimum requirement for CGPA is 3.00 or STPM/STAM/GCE 'A' Level with a minimum of 3 Principles with/without KAED Pre-Sessional Program.
The core knowledge areas that are necessary for landscape architecture students are knowledge about the theories and practices of landscape planning and design, creative and innovative design ideas, appreciation of ecology, history and culture, technical and construction skills, ICT applications, landscape and project management, and exposure to a wide range of landscape architectural design.
University Required Courses (20 Credit Hours)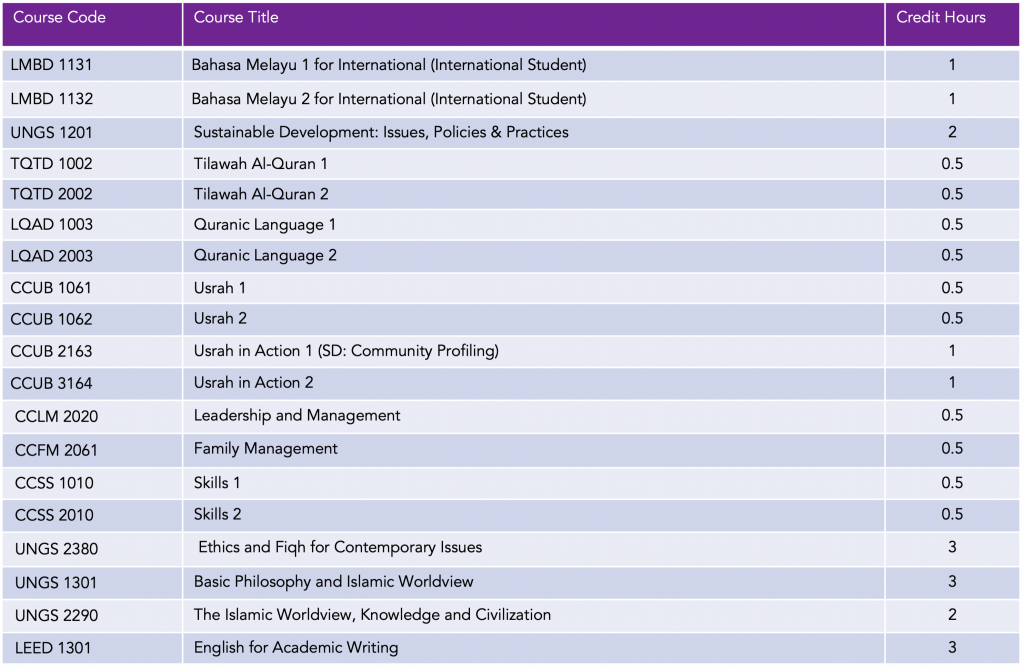 Kulliyyah Required Courses (5 Credit Hours)

Department Required Courses (111 Credit Hours)










6. Duration of Study
The program requires 4 years (8 semesters) to complete. The maximum period allowed for the completion of the program is 6 years (12 semesters).
7. Tuition Fees : Click HERE