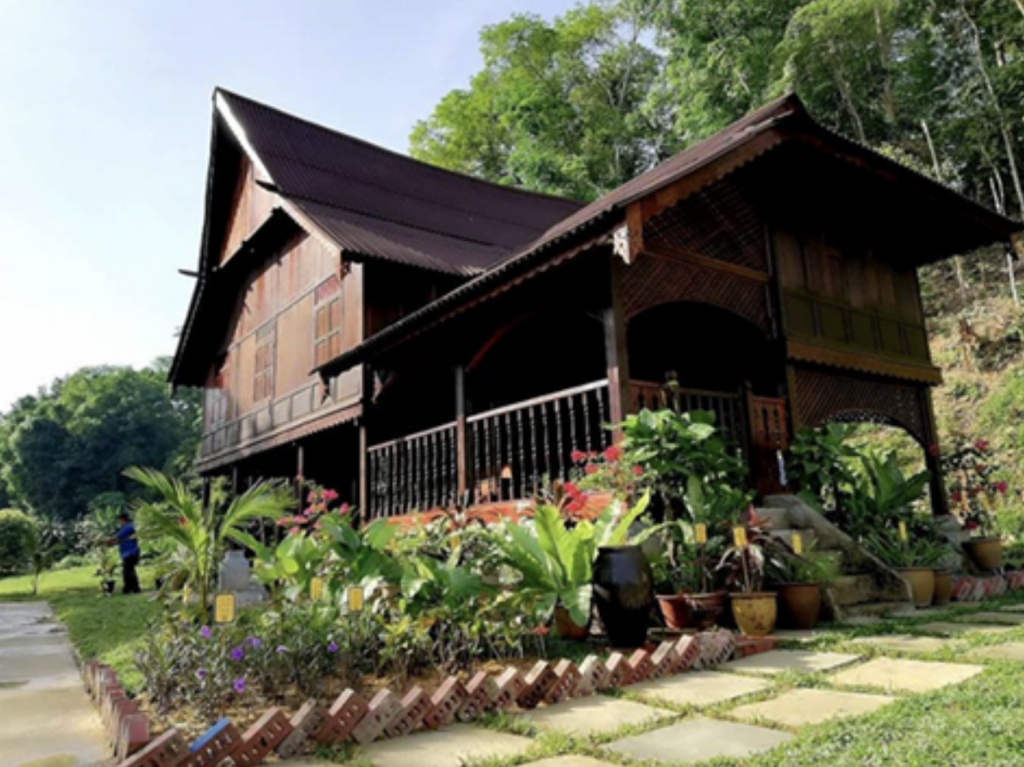 INTRODUCTION
The relocation project of the Perak House is mooted by Y.Bhg. Tan Sri Dato Seri Utama Dr. Rais Yatim, President of International Islamic University Malaysia (IIUM) who is also the Advisor to the Government of Malaysia on Socio Cultural Matters. Y.Bhg. Tan Sri seeks for any architectural structure or building of Malay to be preserved and advanced by relevant institutions or agencies within the country.
He therefore expressed his wish for the Kulliyyah of Architecture and Environmental Design (KAED), IIUM to lead the restoration initiative and he is pleased to sponsor the purchase of an old Malay house from the state of Perak and placed in IIUM campus.
The Perak House is identified as Rumah Kutai Beranjung is an old house originally located at Lot 115 Jalan Siputeh, Mukim Blanja, Parit, Perak. According to records, the house is believed to have been built around the 1910s based on land documents that were registered in 1907. The original owner was believed to have been an influential person in the area as the 'Rumah Kutai Beranjung' referring to a Malay leader's house.
Structurally, the house has two important parts, namely 'Rumah Anjung' and 'Rumah Ibu'. The size of the 'Rumah Anjung' is 2.76 meters x 4.52 meters while the 'Rumah Ibu' is 7.24 meters x 7.03 meters. The house is essentially made of chengal wood and also has one room.
Upon approval from the University's management, in June 2017, the process of dismantling, restoring and reassembling work began. The work process was led by the Dean of KAED itself, Prof. Ar. Dr. Abdul Razak Sapian and assisted by a group of lecturers, staff and students. The relocation project was successfully completed in March 2018. For the long term, the Kulliyyah has placed the Perak House in an area beside the river known as the KAED Malay Enclave Teaching Lab.
The area will also be located with two or three Malay houses from other states such as Negeri Sembilan, Pahang and Selangor. The Malay Enclave will be used as a teaching laboratory for the students of KAED especially its architecture students. The Malay Enclave is also to help in preserving our traditional built heritage as well as promoting it to local and international visitors while visiting the university.
TEAM MEMBERS
Patron
Tan Sri Dato' Seri Utama Dr Rais Yatim – IIUM President
Leader
Prof. Ar. Dr. Abdul Razak Sapian – Dean KAED
Architecture
Assoc. Prof. Dr Noor Hanita Abdul Majid
Asst. Prof. Dr. Nurul Hamiruddin Salleh
Asst. Prof. Ar. Dr. Srazali Aripin
Asst. Prof. Dr. Zaiton Abdul Rahim
Asst. Prof. Dr. Zuraini Denan
Landscape
Asst. Prof. LAr. Dr Jasasikin Ab Sani
Applied Arts & Design
Asst. Prof. Dr Norzalifa Zainal Abidin
Quantity Surveying
Sr. Mohd Azrin Mohd Din
Asst. Prof. Dr. Roziha Che Haron
ISTAC
Assoc. Prof. Dr. Muhammad Pauzi Abd Latif