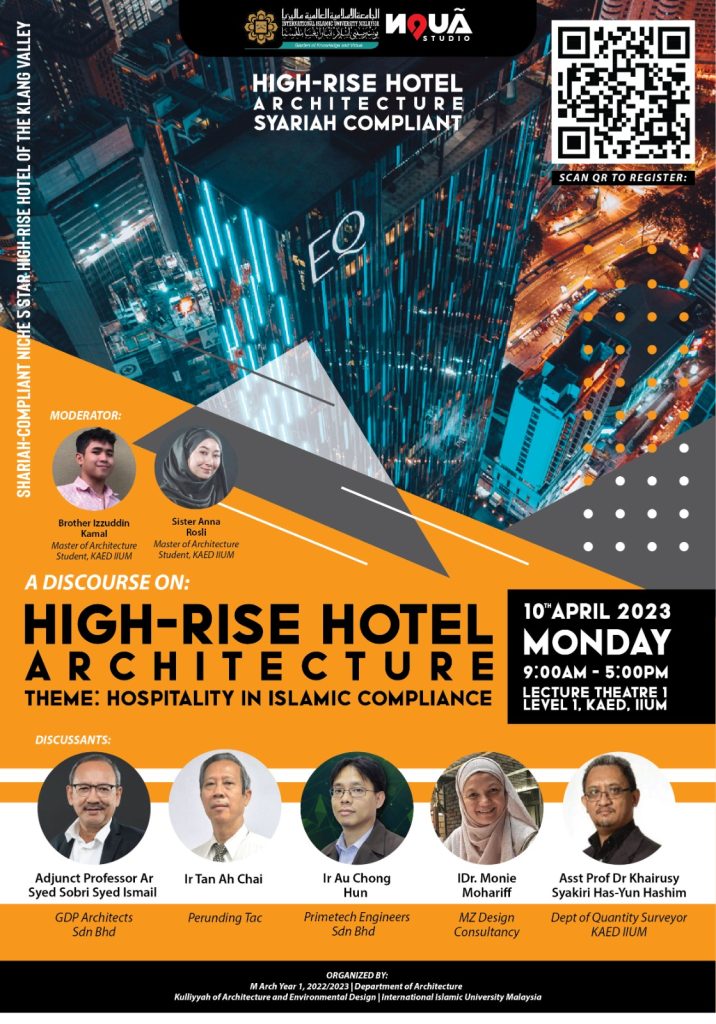 Master of Architecture studio MAAR 7210 has embarked on a design project of hotel architecture for the semester to meet the requirements of a complex building category of a high-rise and long-span nature. The high-rise and hotel building typology requires expert input from numerous parties in the niche industry. Thus, the studio is applying to conduct a one-day discourse to discuss various topics ranging from high-rise buildings, high-rise hotel architecture, pandemic resilience, and the need to make the hotel Syariah compliant. The hotel typology, as part of hospitality service, requires students to understand the meaning of star rating and chain/brand management; the importance of interior design to the human psyche; the technical and green requirements, construction techniques and structure, as well as the subject of subjective cost. The discourse will provide varied exposure to the range of services as the core of hospitality services. Technically, with a high-rise hotel building typology as a case study, the discourse with subject matter expert, students have the opportunity to enquire how each of the services of the hotel entwined and connected with engineering and services that support its functions as well as the ambience contributing to its overall efficiency.
Objectives of the the Discourse
The objective of the seminar is to expose students not only to its content but also through organising the event as a team. Participating in the seminar, students are expected to understand the operation, organisation and expectations of the many users in the hotel industry apart from the physical and technical aspects of planning and designing hotels for the programme.
The seminar is divided into three subsections as follows:
Technology in Hotel and Highrise Construction.

Hospitality Architecture, Branding and Identity, Organization and Services, Resilient and Syariah Compliance,

Design Briefing of the thematic hotel project